For administrators with a Remind plan.
Now that your organization is on a Remind plan, you have access to upgraded features, tools, and reports. As an administrator, you now have further reach across your community and will want to set up the right levels of access to the right people.
Organizational levels on Remind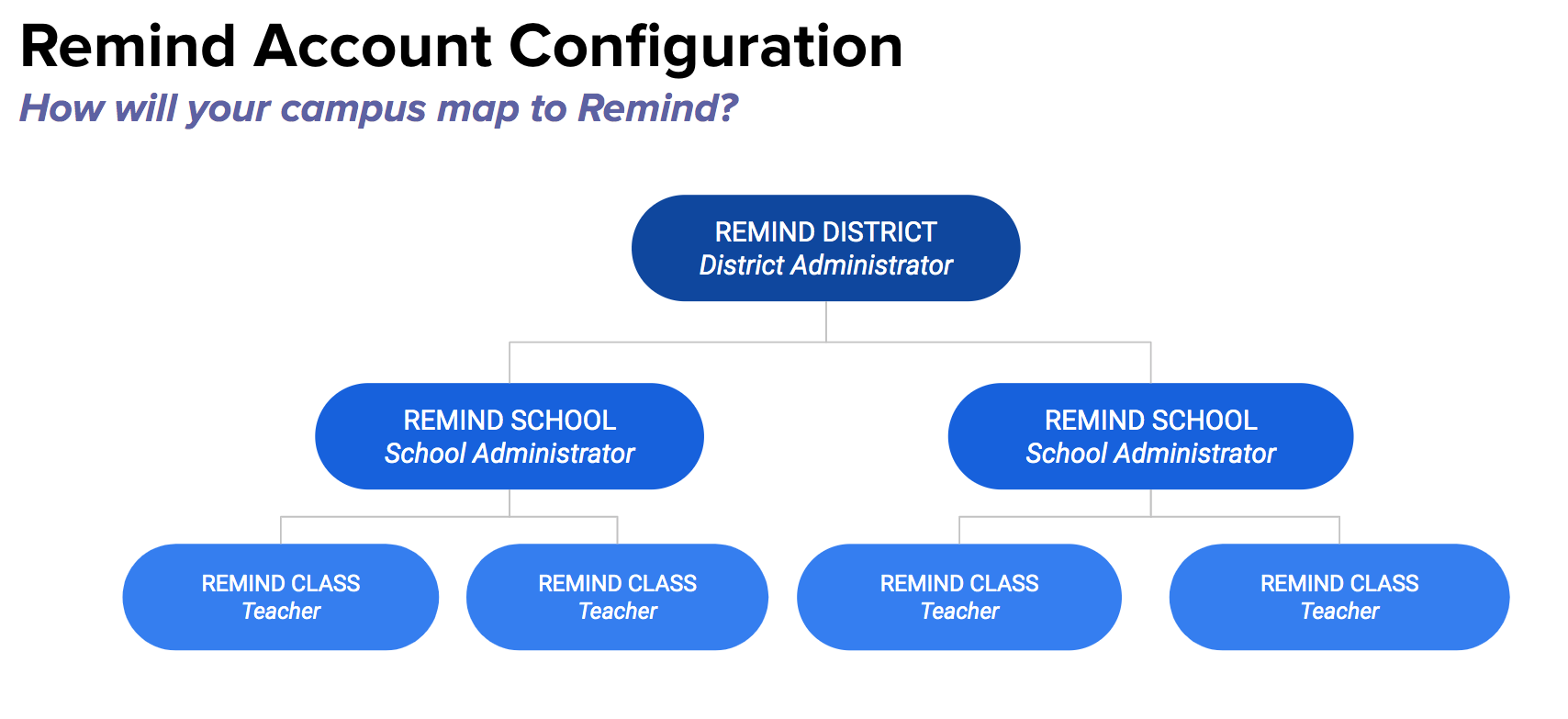 Note: reach out to Support at support@remindhq.com if you would like another school created
District
A district is the highest view level in Remind. For full access, all organizations on the Remind plan are provided a district view. The district view will provide complete organizational visibility.
District Administrator
Who should have a "district administrator" role?
Any administrator who you want to have the highest level of controls in Remind. Users with a district administrator role can:
Complete a

Direct Sync

or

Clever Sync

Directly pull message history

Send an announcement to

all

schools or any selection of schools

Send a message to anyone in the district, across all schools

Manage the people list and class list for each school in the organization

View usage statistics for every school and the district
A district administrator can view all schools in the district: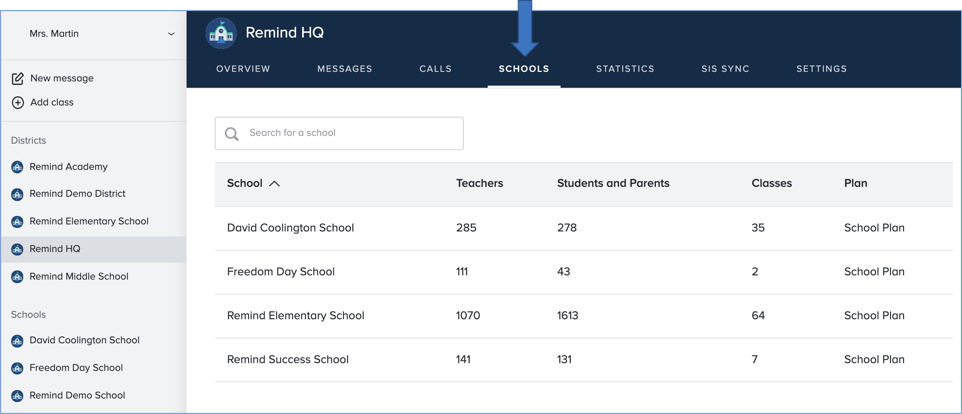 Independent schools receive district access in order to gain full organizational controls:

School
A school is a single group within a district, and a school view provides visibility into school specific data. A school could be a campus, a division, a building, or a district office. Users enrolled in a school are auto-enrolled into the district.

School Administrator
Who should have a "school administrator" role?
Any school leader who will primarily be communicating with one school, or a select group of schools. Users with a school administrator role can:
Request user message history from the district administrator
Send a school wide announcement
Send a message to anyone in their own school
Mange the people list at the school level
View usage statistics at the school level
A school administrator can view their own school dashboard: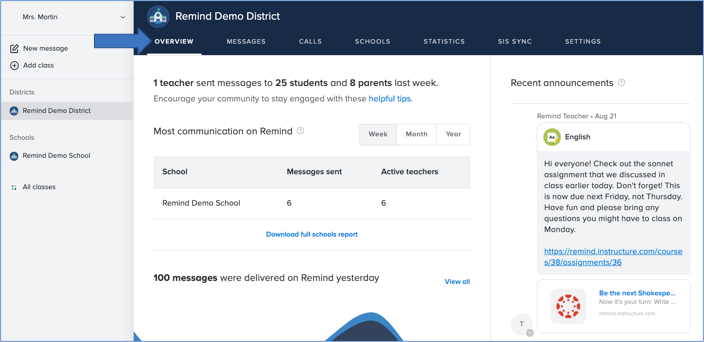 To learn more the dashboard features for district and school administrators, check out the video here!
Class
A class is a single group connected to a school. Individual users who join a class are auto-enrolled in the school to which the class is connected. Classes can be used for instructional classes, staff groups, grade level groups, sports teams, bus groups, and more.

Teacher
Who should have a "teacher" role?
Any staff member who only needs to communicate with a select groups of students, parents, and staff. Teachers, aids, coaches, counselors, and bus drivers could have the role of teacher.
Users with a teacher role can:
message, see, and manage people in their classes
A teacher can view their own classes and classes they have joined: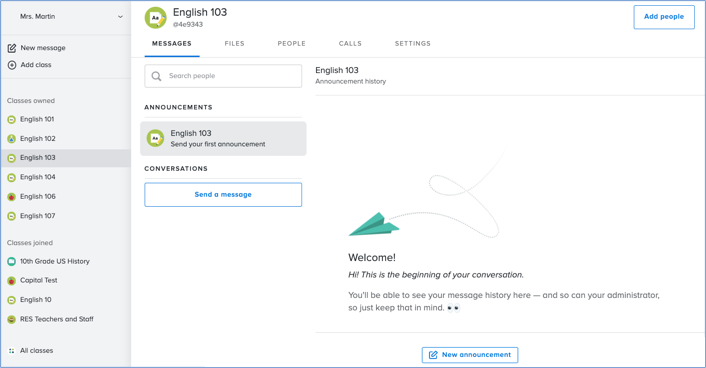 Ready to get started?
Explore our Administrator Onboarding Guide for a step by step guide to your Remind rollout.

Stuck? For questions on account configuration, reach out to support@remindhq.com
Q&A:

Can someone be a school administrator at more than one school?
Yes! School administrators can be added to multiple schools. District administrators will automatically be admins at all schools in the organization. To add or remove administrators, follow the instructions here.

What if I have staff that work at multiple campuses? I don't want them to get duplicate school wide messages.
Sending a district wide announcement will send one message to each unique user in the district. Learn more about organization wide messages here.

Why might I need to add an additional school group?
You have a class that includes users from multiple schools, and want a way to message the group independently. Please reach out to support@remindhq.com

Can administrators own and join classes?
Yes! Administrators have all the same access as a teacher for any classes they own.