For administrators with Remind Hub.
Rostering is the fastest, most effective way to roll out Remind across your organization. By automatically creating accounts and classes with data from your SIS (Student Information System), you can expand reach and drive adoption across your entire community.
You may choose to transfer data from your SIS via Clever, especially if your school or district already uses Clever. Be sure to review our Clever FAQs for additional information about Remind's Clever sync.
| | |
| --- | --- |
| This overview covers the following topics: | |
Before you begin:
You are a district administrator. Here are directions on how to add administrators if you want to create an account for the right person. If you don't have access to your district's dashboard, contact support.
You have access to your district's Clever account.
Decide if you want SIS rostering enforcement enabled for your district. SIS r

ostering enforcement allows you to remove the option for SIS-linked students, parents, and teachers to leave your organization on Remind.
Setting up a Clever sync

Step 1: Add Remind in Clever
Add the Remind app to your district administrator account in Clever. If you don't already use Clever, you can sign up for a Remind account here.
Step 2: Share data with Remind via Clever
Set sharing permissions for Remind to let Clever know what data you'd like to transfer. We recommend sharing by district if your full district purchased or sharing by school, and including the following required data points:
studen

t full name

guardian full name

teacher full name

class name

student ID

guardian mobile number or email

teacher email

class teacher

student DOB

guardian_preferred_language

preferred_language

class list of students

student grade

preferred_language
All data points are required except for preferred_language. However, we highly recommend you provide the language preference for all of your teachers, students, and parents so you can easily send them auto-translated district and school-wide messages. If you choose to share this data:
You can add the preferred_language for teachers on Clever's teacher objects.

You must add both the preferred_language for students and the guardian_preferred_language for parents to Clever's Student objects ext field as Clever does not currently provide a parent object.
If you choose to not share preferred language data with Remind, the preferred language for all accounts will be blank and default to English. Users can add a preferred language to their account at anytime.
Please keep the following in mind when sharing data via Clever:
An account will be created for every parent/guardian contact shared with Remind. Before initiating a data share via Clever, we strongly recommend

filtering out emergency contacts as well as any individuals prohibited from contacting students.


Remind classes will be created for every section shared with Remind, so set up

sharing rules

to omit unnecessary or ina

ctive classes. You can also use Clever

Custom Sections

to create Remind classes for athletic teams, after-school clubs, and other groups.

If a student, teacher, parent, or administrator changes their preferred language, their setting will override the language preference data you've shared with Remind for them.

The only values we accept for preferred_language and guardian_preferred_language are any two-letter ISO-639-1 or BCP-47 code, or three-letter ISO-639-2 code you can get from this list here.
You can see the data you share with Remind in the Clever data browser. If necessary, contact Clever to adjust your sync settings.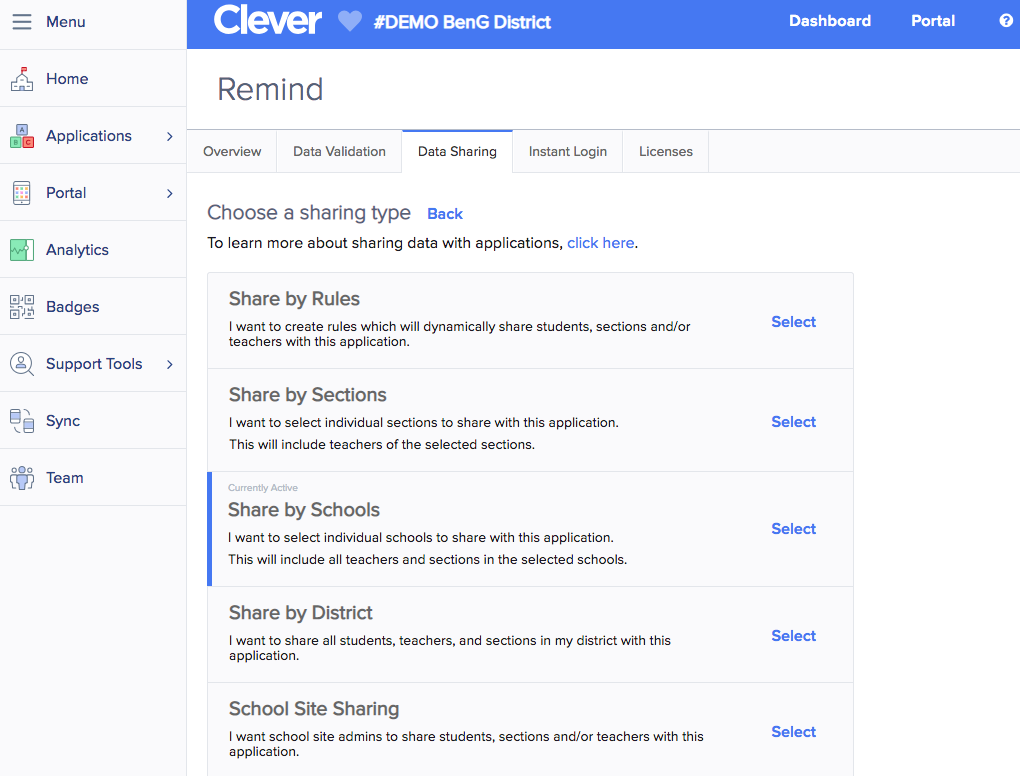 Step 3: Connect your schools in Remind
Sign into your Remind account. From your district admin dashboard, click on the SIS sync tab, and select Start SIS sync.

Then click sync with Clever, which is located at the bottom of the screen.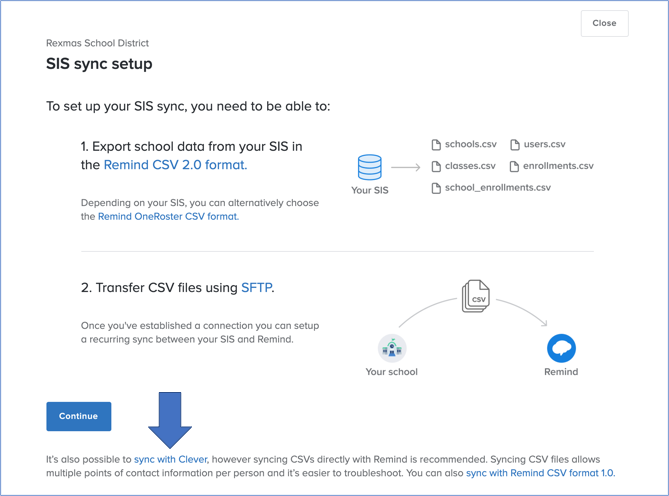 On the next page, click Continue with Clever.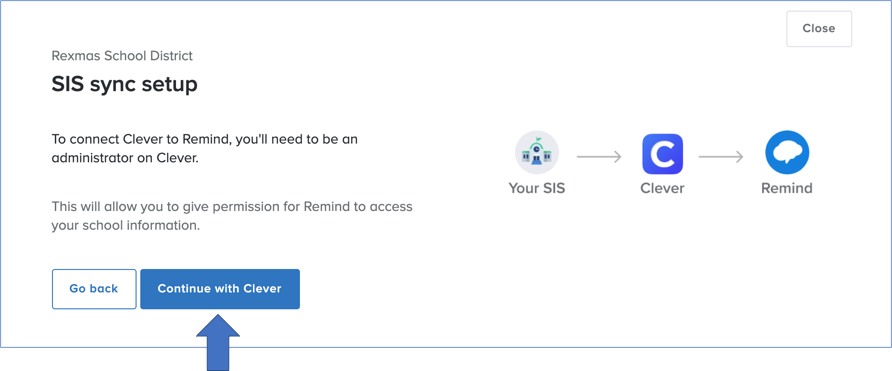 Then log into your Clever administrator account again to connect your schools in Remind to your schools in Clever. If you'd prefer not to roster a school with Clever, deselect the school.

Make sure that Remind schools match the corresponding Clever schools. Review the list and correct any discrepancies.
Remind will immediately begin processing the Clever sync, creating accounts and classes for the roles selected. Initial syncs can take anywhere from 20 minutes to 24 hours. For subsequent syncs, processing time should not exceed 8 hours.
Classes will remain in a pending state until the teacher logs into Remind and claims their account. As classes become live in Remind, administrators will be able see those classes from the 'Classes' tab in their administrator dashboard. Please note that teachers who are already active Remind users will gain access to their Clever-rostered classes immediately.

Once the initial sync is complete, you'll receive a confirmation email with details of your sync and next steps. Please note the first Clever sync can take several hours to process. If you'd like to change your Clever sync configuration settings in the future, contact the Remind support team.
Step 4: Send teacher, student and parent notifications
After the Clever sync is complete, you'll need to notify teachers, students, and parents about their new accounts. Any district or school administrator can manually trigger notifications from each school's SIS sync report. You can learn more about the first teacher, student and parent notifications here.
Step 5: Add student mobile numbers to Clever-rostered accounts (optional)

Since Clever doesn't store student phone numbers, student accounts created via Clever sync will only include email addresses. Students can add their mobile number to Remind by following these instructions.


Troubleshooting a Clever sync
To ensure accurate data is transferred from Clever, Remind has several safeguards in place. Reference the articles below for information on addressing sync holds and errors/alerts.
Sync holds:

A school's sync will be placed on hold if Remind suspects a data configuration issue with your Clever sync. You will be notified via email when a sync is placed on hold.

Learn more about sync holds.
Errors and alerts

: Errors are issues in your SIS that prevent teacher or student accounts from being created. It's critical that you address these as soon as possible. Alerts are minor data errors in your SIS that, if fixed, would make Remind more useful and productive to use for your school community.

Learn more about sync errors & alerts.


Nightly Clever syncs
Remind syncs with Clever every night between the hours of 11pm and 5am PT. When new classes or accounts are added or removed from your SIS, these updates will be automatically reflected in Remind. User actions in Remind (like changing the name of a class) will not be affected by these syncs.
You should send Clever rostering notifications to teachers, students, and parents who are added to Remind from Clever about their new Remind account.
Once a Remind account has been created, users can update their contact information directly in Remind.
Single sign-on with Clever
Single sign-on (SSO) with Clever allows teachers and students to log in to Remind directly from Clever using their Clever credentials. Remind does not support Clever SSO for administrators at this time.
Learn more about SSO with Clever here.

Have additional questions about Clever rostering with Remind? Check out our SIS rostering FAQs.