Report Overview
Administrators at schools and districts that have rostered using Clever can now view the status of each school's Clever-Remind sync on their SIS sync report!

To access, head to the Settings tab in the admin dashboard and select SIS Sync. Here you will see all of the Remind schools in your district and the status of each school's Clever-Remind sync. You can drill into the sync details for each school by clicking the name of the school.

The SIS sync report is sorted by error count to help draw your attention to the most actionable information. If there are schools in your district that are not part of the Remind Plan, they will be in gray.
Teachers & Students indicate the number of rostered teacher or student user accounts that have been provisioned in Remind from Clever.
Errors are issues in your SIS that prevent teacher or student accounts from being created. It's critical that you address these as soon as possible. Schools with errors will be highlighted in red and will display a red exclamation point. More on SIS error resolution below.
Alerts are minor data errors in your SIS that, if fixed, would make Remind more useful and productive to use for your school community. More on SIS alert resolution below.
How do I resolve errors and alerts?
If a school has errors or alerts, the SIS sync report will indicate this issue and you will be able to drill into the school to see details of the error types, alert types, and information how to resolve them.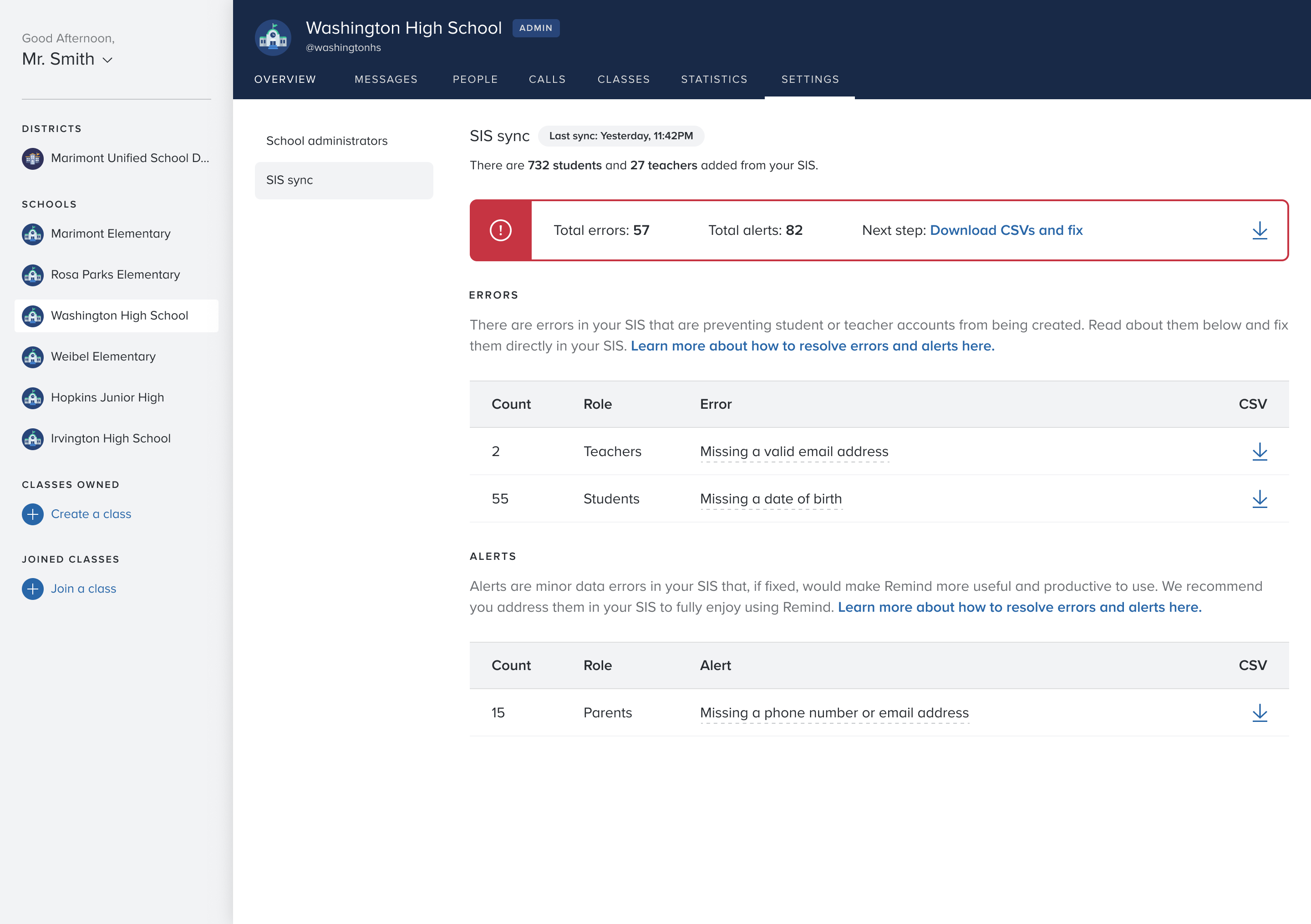 When you drill into an individual school's SIS sync report, you will find details on the status of that school's Clever-Remind sync, including the date and time of the last Clever-Remind sync.
If there are errors or alerts, you can download .CSV files that contain information on the users that need to be corrected in your SIS. This will equip you with a detailed list of the changes that need to be made directly in your SIS.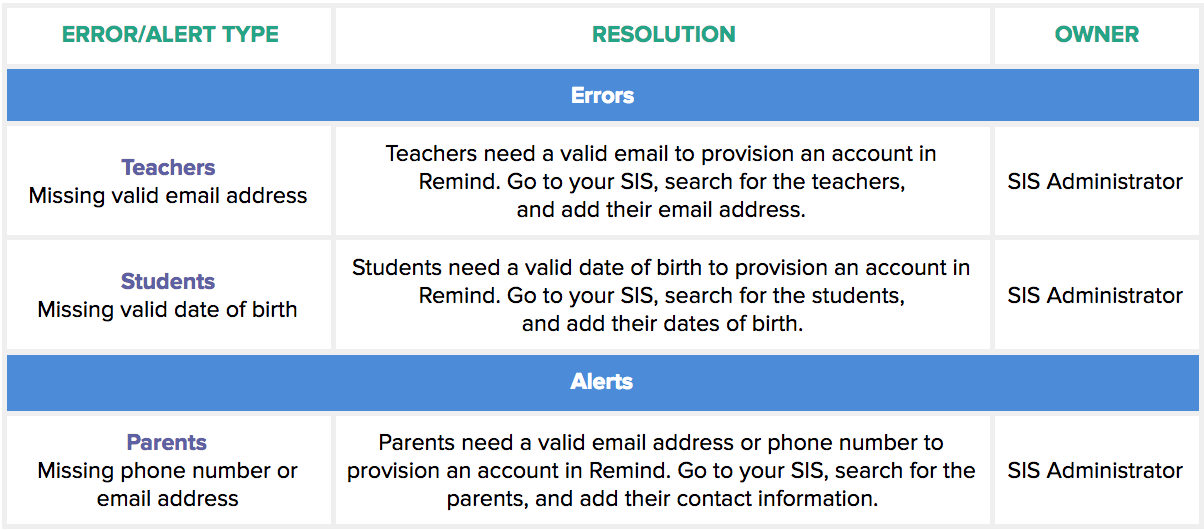 What happens after I resolve errors and alerts in my SIS?
For schools and districts that have an automatic sync established between their SIS and Clever, any updates that are made directly in your SIS will be pushed to Remind via Clever on a nightly basis. 

Updates made to your SIS need to first be processed and stored in Clever before being pulled into Remind. Not all SIS-Clever sync types are processed automatically and as such, you may need to upload your updated SIS data to Clever before changes will appear in Remind. Refer to your District Dashboard in Clever for details on your SIS-Clever sync type and frequency.
Contact your SIS Administrator or Clever Support if you have any questions on your SIS-Clever sync.