Available to administrators on a Remind School or District Plan. You can learn more about these plans here.
Outside of our SIS Sync options, administrators can bulk add participants to a school, creating teacher, student and parent accounts automatically with no opt-in necessary. From there, classes can be created by administrators and/or teachers.
**Please note this method immediately notifies the user of their account once added. We recommend informing your community beforehand so the auto-notification isn't overlooked. We have templates here to help with the messaging. 
Step 1: Add people to your school
Once you've prepared your lists of people to add to your school - including first and last name and their email or phone number - it's time to add them to Remind.
From your school administrator dashboard, select Add People
Select Phone or email contacts 
Copy and paste the corresponding data into the space provided (up to 150 people at once!)
Click Add people 
Repeat if necessary
Other ways to add people to a school
Click on Printable PDFs to generate a flyer with instructions on how to join. Many administrators post copies of this sheet in the school entry and at the front desk.
Click on In-person Instructions to view a class code you can share out to people. When they text this code to the number 81010 they will receive a welcome text from Remind.
Adding people who already have Remind accounts
If a Remind account already exists with the email or phone number that you add, that user will just be added to your organization. If they created a Remind account using another email (e.g., their Gmail account), they'll be prompted to either create a new account or merge their existing account by adding their official school email. If they haven't done either, Remind will automatically create a new account for them.
If you notice duplicate people in your school after uploading, they've likely used a different email address or cell number to join Remind. Contact the Support team, and we can help merge them into one account. 
Step 2: Create classes and add participants
There are two ways an administrator can approach creating classes for their school
Creating classes for teachers
Empowering teachers to create classes on their own
Creating classes for teachers 
Click the Create a class button below Classes owned. You will be prompted to choose a class name, class code, and a few other details. Make sure the class is associated with your school.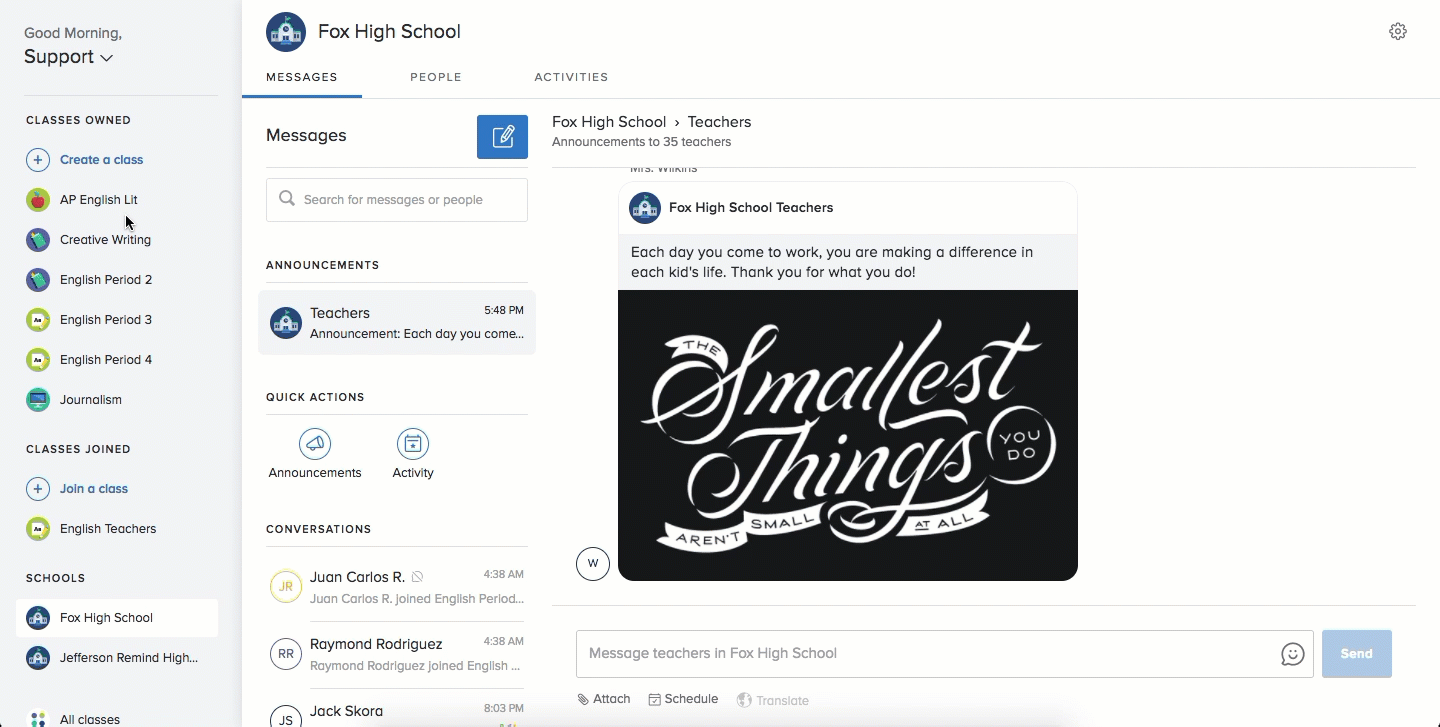 You can add people to a class the same way you add people to a school, click on the class of choice and select the People tab to find your options to add participants. 

Bonus options: Copy participants to a class from your school-wide people list:
It is possibly to copy individuals to another class that you own. Just click on the participant's name and you'll see the link for Copy to another class.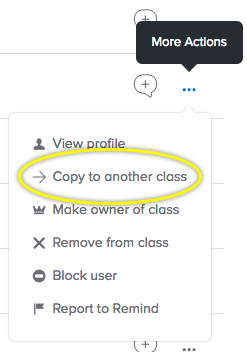 Add the necessary teacher(s) as a co-owners. You can read more about class ownership here. You can add an owner to your class from your class settings or people list. When you are in the class, click on the class icon at the top to reach its settings. To add an owner from the people list go to the People tab and find Add owner on the upper right. 
Empowering teachers to create their own classes 
Refer to the class section of our help center for resources on class creation and management that can be shared with teachers.
We also recommend leading a training session with your teachers as part of the Remind rollout. We have created a webinar on leading a training session at your school.