For administrators with urgent messaging, a premium feature available with the Remind plan! To learn more, please contact your Remind account manager or Remind support.

Urgent messaging reaches everyone in your community across all available devices—regardless of their notification preferences.
Remind delivers urgent messages via text message, smartphone app notification, email, and landline.
Urgent messages also include text-to-voice calls as a fallback if recipients aren't reachable by text or app. This includes people who have opted out of text notifications and any delivery failures.
Use the preferred language translation feature to send automatically translated urgent messages in 90+ languages on the web and on the app. Remind translates urgent text-to-voice messages into Chinese, Catalan, Danish, German, Spanish, Finnish, French, Italian, Japanese, Korean, Dutch, Polish, Portuguese, Russian, and Swedish.
Urgent messaging should be limited to emergency situations, ranging lockdowns, weather closures, or unexplained absences.
---
How to send an urgent message
Note: District administrators can enable or disable urgent messaging for school administrators. If you are a school administrator and you do not see the option to send urgent messages, please reach out to your district administrator.
Click on the New message button

via web or the mobile app, and select

Urgent message.
Confirm that you want to send an urgent message, and select Continue.

Choose a sender: The message can come from the district itself, or you can select yourself as the sender of the message. Replies will go to the sender if they have replies enabled for their Remind account.
Participants can reply to the urgent message if the sender has two-way messaging enabled.
Select recipients: Urgent messages can be sent districtwide, schoolwide, or to classes that the administrator owns. Recipients will receive urgent messages as text messages, push notifications, emails, or text-to-voice calls.
Urgent messages will be sent to everyone who has an account linked to your organization. If someone has opted out of text messages, they will receive a text-to-voice call and voicemail. SIS rostering enforcement is enabled by default to make sure that all SIS-linked students, parents, and teachers do not opt of messages, and are notified in urgent situations.
Note: Voice clips and attachments will not be communicated to text-to-voice recipients.
Compose your message: Urgent messages are marked "URGENT." Although you can edit this text, it allows recipients to quickly understand that the message is urgent. You can see what the recipient experience looks like above.
Finally, review and send your message.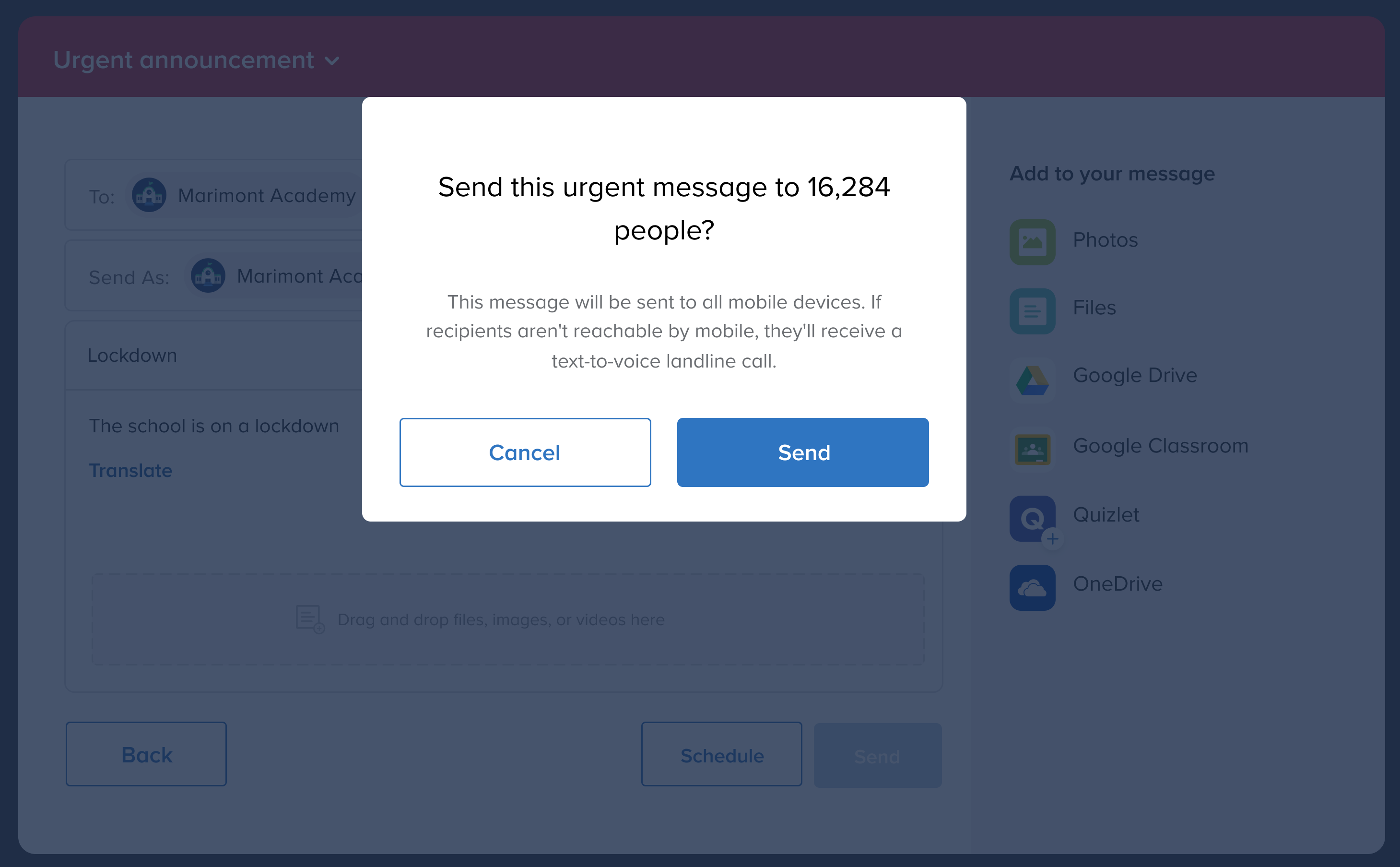 Note: You can Click here to learn more about how you can send a translated message.