There are four ways to add people to Remind. You can find all of them by clicking on the "Add people" button when you're logged in on the app or online.

If you know people's phone numbers or email addresses, you can add them directly to Remind. You can also invite them to join Remind with a printable PDF handout, in-person instructions, or a shareable link. You can learn more about each of these options below.

When people join Remind, you'll see them appear in your class or your school. Once they're on the people list, they'll receive any messages you send them. You can also copy them to another class.
Add people directly to Remind
If you're based in the United States, you can add people directly to your class if you have their phone numbers or email addresses. The contact information you enter will determine how people get notifications: entering mobile phone numbers means that they'll get messages by text, while entering email addresses means that they'll get messages by email.

First, choose whether you're adding students, parents, or teachers to Remind. Then, you can manually enter the necessary information or copy and paste from a spreadsheet.
If you're copying and pasting from a spreadsheet, be sure to copy all the information that you need at once (name, contact information, etc.). You won't be able to copy and paste a single column at a time.

NOTE: An email address is required for adding teachers to Remind. You can also enter a phone number or secondary email address.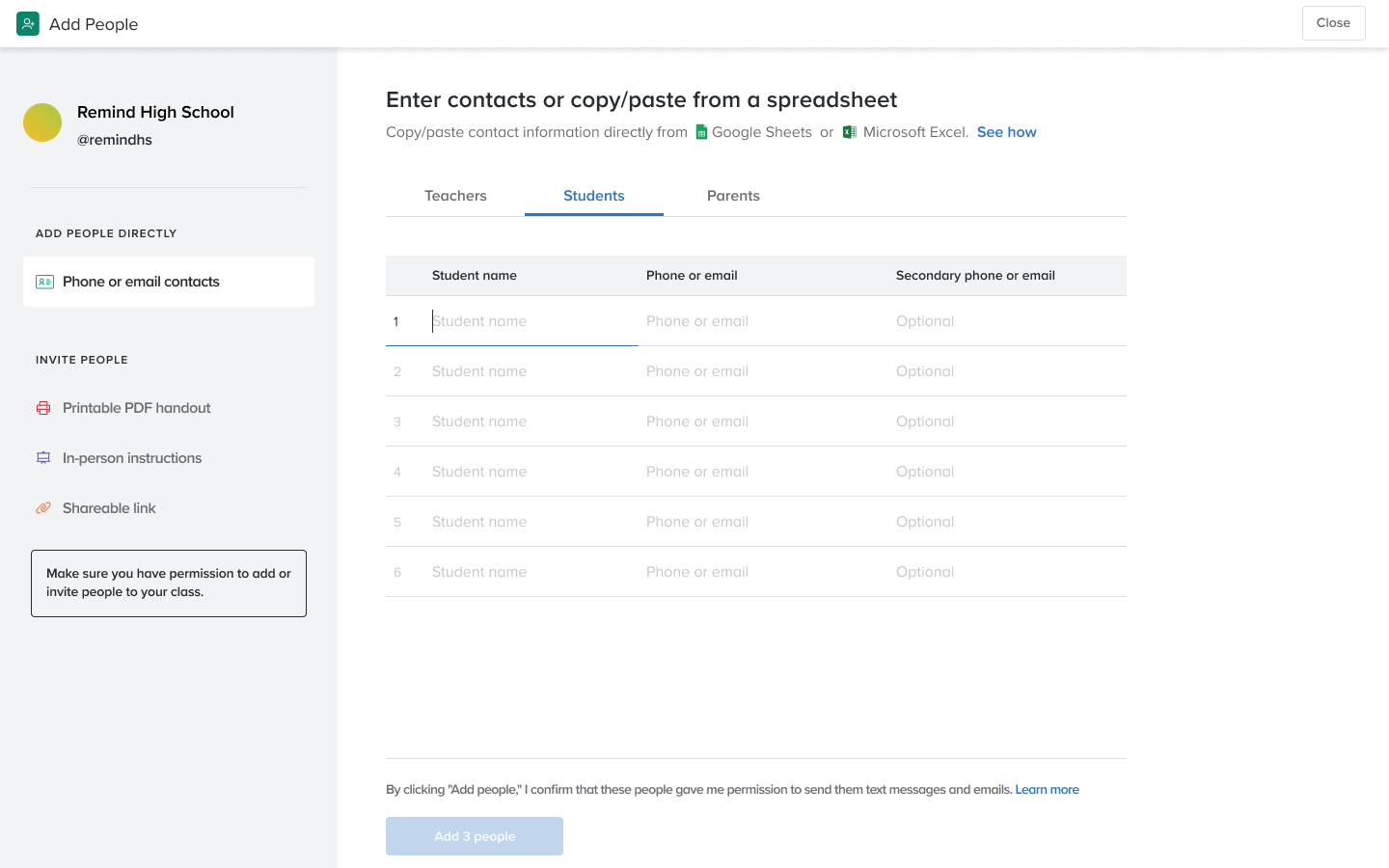 Make sure you have people's permission to add them to Remind—when you click the button to add them, they'll automatically receive a notification from Remind and begin receiving any messages you send.

If you're an administrator at your school, you can add up to 500 people at a time. All other group owners can add 150 people at a time.
*If you face any errors when trying to add participants, review the possible reasons here.
Invite people to join Remind
If you don't have phone numbers or email addresses, you can invite people to join Remind. Make sure they know to follow all the required prompts (like replying with their names or date of birth), since they won't appear in your class or school until they do.
Printable PDF
Download or print out instructions for joining Remind. The PDF provides text or email sign-up options and is available in Spanish, French, and Portuguese. Tip: Post these in a high-traffic area, like a classroom door or pick-up area, or send them home as a handout or email attachment.


In-person instructions
If people have their mobile phones with them, they can sign up in seconds via text message. Tip: Share these in an announcement or include them somewhere with high visibility, like a board, syllabus, or newsletter.


Shareable link
With this link, people can join your class directly from their phones or computers without entering your class code. Tip: Copy and paste this link in an email (or on a website where you feel comfortable sharing this information).