For all Remind users.
You can now send and receive auto-translated messages via the Remind app or your account online. If you're an SMS user connected to an organization with Remind Hub, you can also use our two-way translated feature.
Our previous translation feature required you to manually translate the content of your messages before sending them. With our new two-way translation feature, all you have to do is compose your message and hit send! When you have the translation feature on, we'll automatically translate your message, and send it to all of your recipients in their preferred language. As long as you have replies turned on, you'll also receive messages in your preferred language!
Frequently asked questions:
---
Why did my preferred language change?
Verified district and school administrators can change your preferred language within their account via rostering or manually. Class owners can also update the preferred language of their class participants manually. If you need to receive messages in a different language, you can update your preferred language via your Profile page on the web or via the Remind app at any time.

---
Will I receive replies to my messages in my preferred language?
Message recipients can respond to your message in their preferred language via the Remind app or on the web. SMS users can only send a translated message if they are linked to an organization with Remind Hub. In order for your incoming messages to automatically translate into your language, you must set a preferred language for your Remind account. Once you do that, we'll automatically translate messages sent to you into your preferred language. You'll see a link that allows you to toggle back and forth between the original message, and the translated message.

---
Why are some of the messages I receive not in my preferred language?
The sender decides whether or not they will send translations of their message. If you want to receive all messages from a school admin or teacher in your preferred language, first make sure your Profile has a preferred language selected, and then reach out to the sender and ask them to always send you translated messages.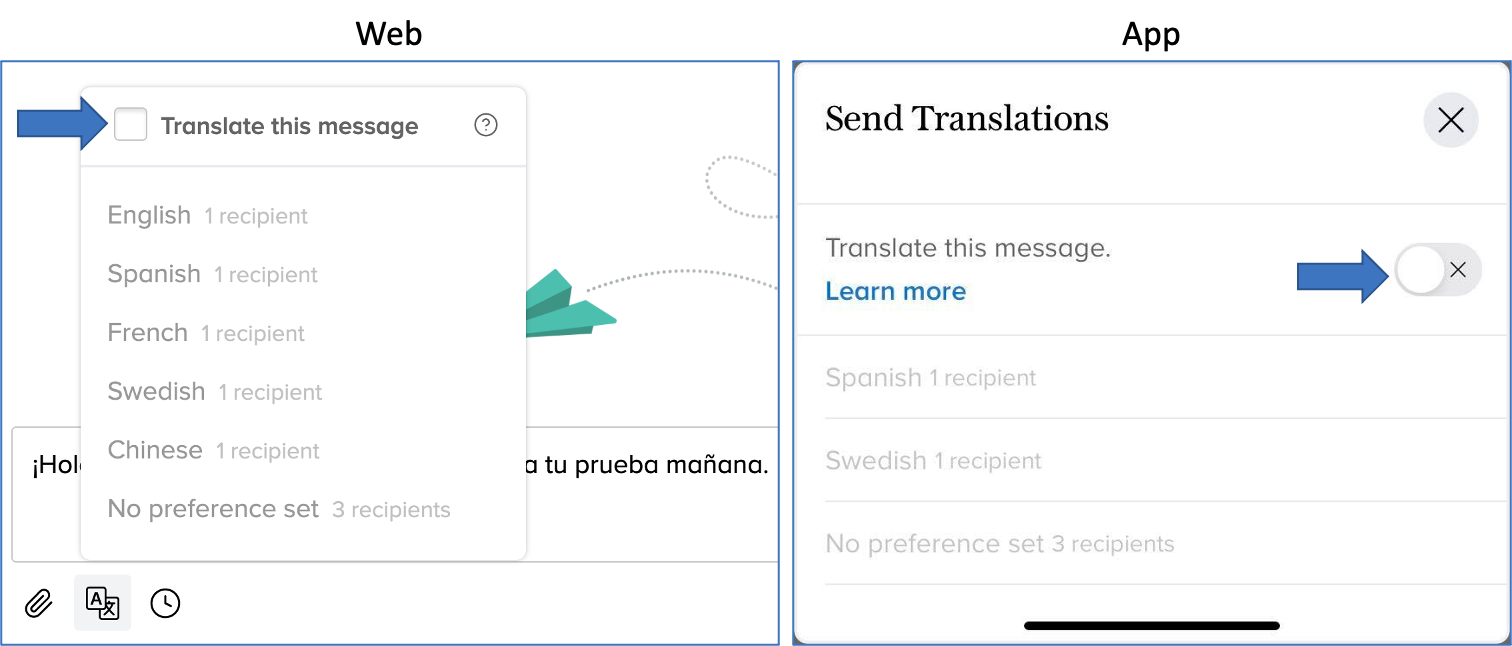 ---
Do I have to activate the translation feature every time I want to send a translated message?
The default setting for translations is off for all messages. Once you activate it, the default setting for translations will be on for all messages; so you do not have to activate the feature every time you send a message. You can turn translations off at any time. Once you do, the default setting for all future messages will be off until you turn it on again.
---
I'm a language teacher. How can I send messages in a specified language?
If you're a language teacher, you can uncheck the translation toggle in the message composer, or switch it to off in the app, to send your message to your class participants exactly as you typed it.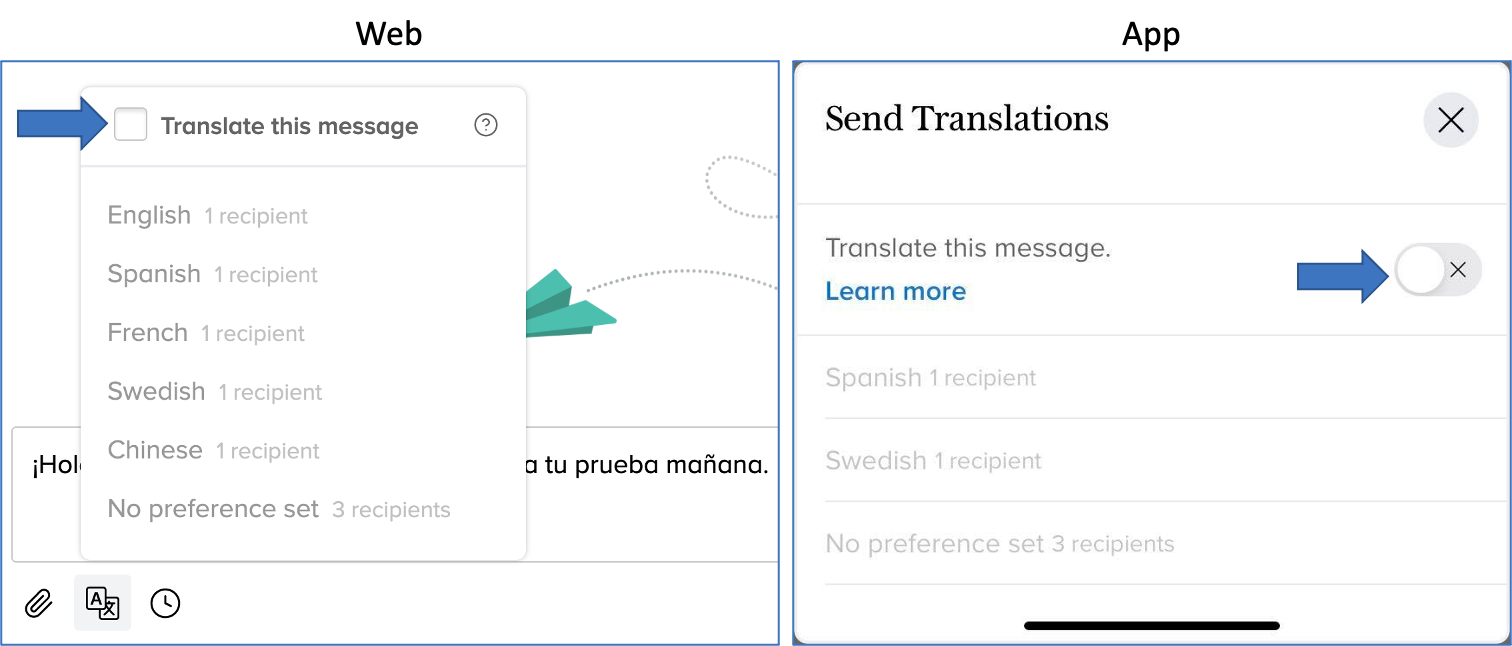 ---
What's the best way to receive and send translated messages?
We highly recommend you download and use our free and easy-to-use Remind app. Through the app, you can receive and respond to all messages instantly.
---
Why is my translated message not accurate?
Our translation feature is currently powered by Google Translate which is one the top multilingual softwares available in the world, and supports over 90+ languages. However, we recognize that at times it may not generate perfect translations. It is a top priority for us that everyone in your community receives accurate messages in their preferred language. In the near future, you'll have the option to edit auto-translated messages.