For administrators with advanced messaging, a premium feature available with Remind Hub! To learn more, please contact your Remind account manager or Remind support.
Automate messages to students and parents by transferring data from your school information system (SIS) using a secure transfer file protocol (SFTP). Our schools and districts can send recurring auto messages up to 50,000 students and unlimited linked parents per send.

Auto messaging can be used to send daily attendance notifications, weekly lunch money balance updates, monthly student of the month congratulations, regular grade and progress updates, etc.
Before you begin:
You must be a district or school administrator.
Your organization has the ability to set up a recurring SFTP transfer from your SIS or other data source to Remind.
Your organization has created student accounts with a SIS sync. To set up a CSV, ClassLink, or Clever SIS sync, check out this Guide to SIS Rostering with Remind.

Note: If you'd like to reach parents, students must be SIS rostered with parent connections on Remind.
Step 1: Create a new auto message
As an administrator, you can set up auto messages at the district level or at the school level. First, click on your district, click the Settings tab, select the Auto Messaging option on your administrator dashboard, and then click New auto message on the top right corner.

You'll be prompted to name your auto message. This name is for organizational purposes, and will only be visible to you and other verified administrators.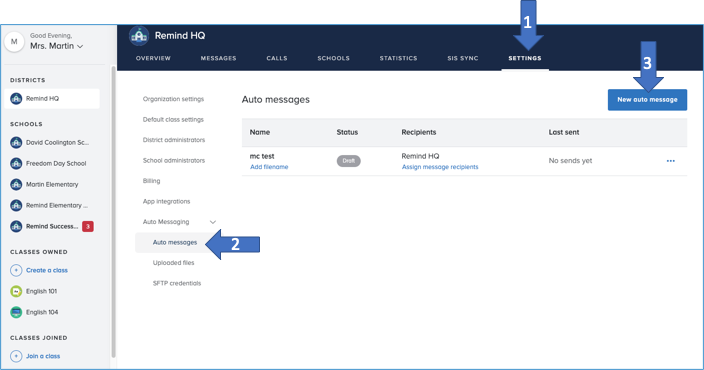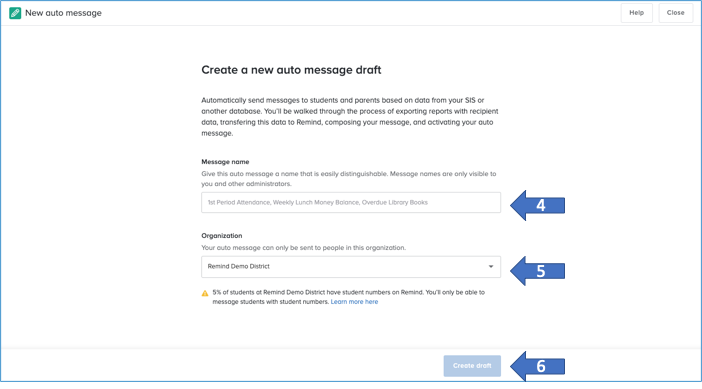 Step 2: Format CSV file export
In your SIS or other data source, set up a recurring CSV export of student numbers.
Example: You could set up a daily export of all absent students or a weekly export of student's with low lunch money balances.
Your CSV file must contain a column with the header student_number.

Let Remind know what unique CSV file name to expect. Every time you transfer a CSV file with this specific file name to Remind, this particular auto message will get sent.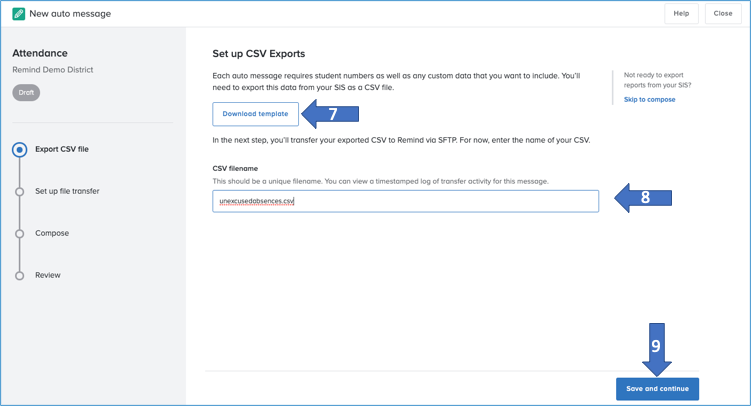 Step 3: Set up file transfer
Set up an automatically recurring SFTP file transfer to transfer your CSV file to Remind. You can choose whether to transfer data directly from your SIS, or by uploading files using an FTP client.

If your SIS does not support SFTP, we recommend using an FTP client like Cyberduck. See this walkthrough on How to set up auto messaging with Cyberduck here.

Enter your SFTP credentials into your SIS or FTP client. If this is the first auto message you're setting up, you'll need to generate a set of SFTP credentials. For subsequent auto messages, you can choose whether to reuse these credentials or generate additional credentials.

SFTP Credentials
Upload URL (this can be found in your FTP client under different terminology (i.e. Host))
Port #
Username and password credentials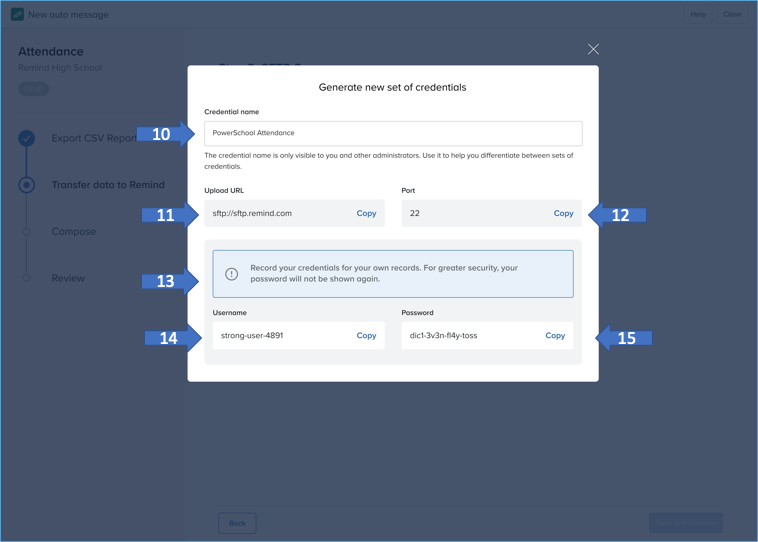 Schedule recurring CSV transfers. Choose the time you want auto messages to be received by students and guardians. Messages will be sent as soon as Remind receives your CSV file. As a safeguard for students and parents, CSV files received between 12am and 7am EST will not be sent.

Keep in mind
SFTP credentials used for auto messaging are different from the ones used for SIS rostering.
Files cannot be sent in a Zip folder
For greater security, SFTP credentials passwords are only shown once. Record the password in a secure place.
Step 4: Compose an auto message
Select message priority: The default setting for auto messages is send normally, which means Remind will send it as a regular message. If your organization has the premium feature urgent messaging, you can choose the send as urgent message option to dispatch an auto message related to an emergency situation, such as unexplained absences. Remind will send the urgent auto message to all devices linked to a recipient's account, including to those that have opted out of text messages.
Choose a sender: If the message is set up at the district level, it'll come from the district itself. Replies will be disabled.

If the message is set up at the school level, you can select any verified administrator as the sender of the message. Replies will go to that administrator as long if they have replies enabled for their Remind account.
You can add additional administrators to your organization by going to the Settings tab in your administrator dashboard.

Select recipients: Auto messages can be sent to students, their parents and guardians, or both. Students on Remind will be matched to the student numbers in the CSVs.
Parents and guardians must be already connected to these students on Remind. If you select 'Parents and Guardians', every parent and guardian associated with the matched students will be included as a recipient of your announcement.

If students are missing student numbers or parents and guardian connections, the district administrator can add them through SIS rostering.

Compose your message: Recipients will receive this auto message as text messages, push notifications, or emails, depending on their Remind notification preferences.

You can also add custom data fields to your auto messages (e.g., student name, number of absences, current lunch money balance).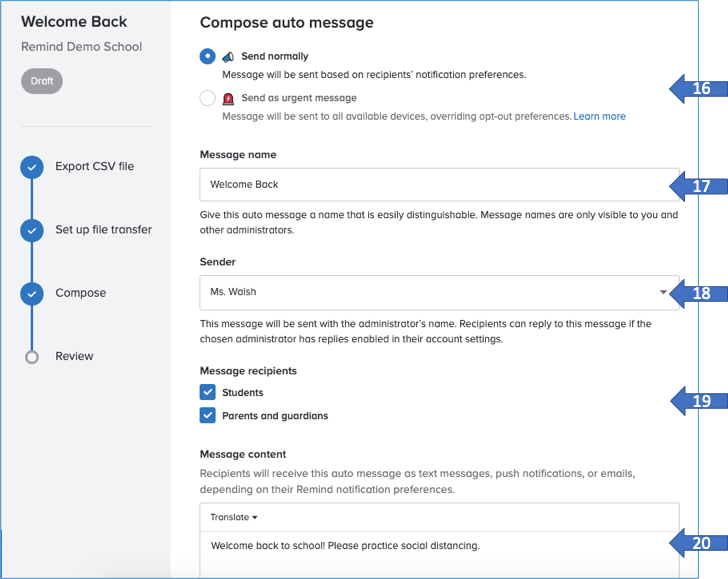 Step 5: Review and activate your auto message
Review your auto message, and click Activate. Once your auto message is active, an auto message will be sent every time a CSV file with a matching file name is transferred to Remind.