For administrators with a Remind plan using Direct add, Clever, OneRoster, or CSV format 1.0 or 2.0.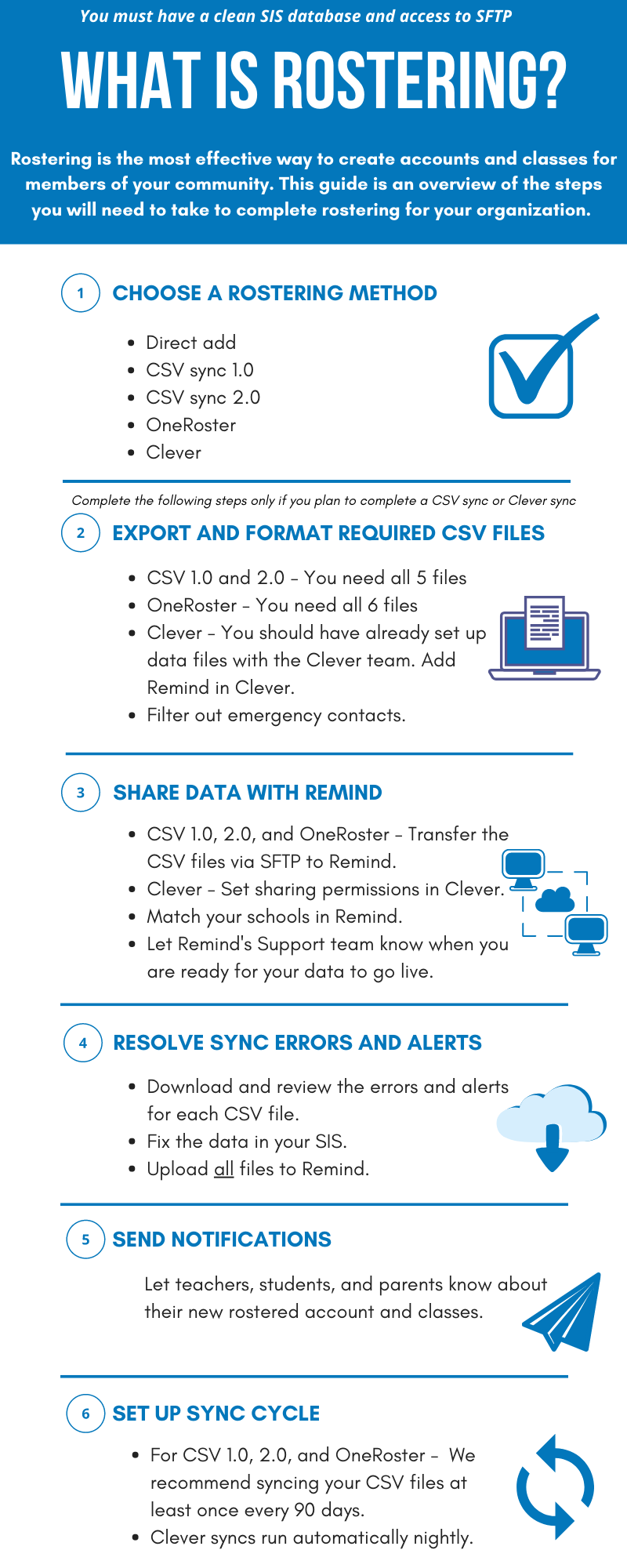 To make the onboarding experience as smooth as possible, we recommend informing your community about the Remind rollout before you begin rostering your organization. Email templates for notifications are available here.
Learn more about each rostering step below.
---
Step 1: Choose a rostering method
There are three options for setting up accounts and/or classes on Remind for your organization:

Direct add - Create Remind accounts and classes for people in your organization without SIS syncing.

You can add contact information directly to Remind for up to 150 people at a time. This option is recommended for smaller schools and districts as well as non-traditional organizations.

CSV sync – Transfer data from your SIS directly to Remind via SFTP. This method can accommodate CSV files formatted to Remind or OneRoster 1.1 requirements. This option is compatible with any SIS or rostering service (e.g. ClassLink) that can export CSV files and is recommended for all schools and districts with SFTP capabilities.
Clever sync – Transfer data from your SIS to Remind via Clever. This option is recommended only for schools and districts already using Clever.
Once selected, you cannot change your organization's rostering method.
The following steps are only for districts rostering via CSV sync or Clever sync.
---
Step 2: Export and format all required CSV files
Update and review your SIS data (removing or filtering out former students/teachers and parent/emergency contacts that should not be in Remind).
Review Rostering FAQ as well as follow the detailed instructions to format your CSV files for one of the sync options below.
We recommend also reviewing your existing Remind data, and completing the action steps listed in this article. This will help you keep the manually entered data accurate as it is not affected by SIS syncing.
---
Step 3: Transfer data from your SIS
Once you've chosen a SIS sync option for your school or district, you can begin transferring data from your SIS to Remind. Follow Steps 3 and 4 in this article.
---
Step 4: Resolve sync errors and alerts
After you transfer your data from your SIS to Remind, you can check the status of your sync through your SIS sync report. In your district dashboard, select the SIS sync tab to drill down into sync details. District administrators can click on individual schools to access school-specific information.
You can also enable SIS rostering enforcement from the district SIS sync report. SIS rostering enforcement allows you to remove the option for rostered students, parents, and teachers to leave your organization on Remind.
---
Step 5: Notify teachers, students, and parents
After you finish transferring data from your SIS, you'll need to notify teachers, students, and parents about their new accounts, as no automatic notifications are sent during account creation. Learn more about the first notification here.

Teachers

will receive an email with directions to log in and claim their classes. Their accounts and classes will only become active once this step is completed.

Students and parents

will receive a message through their primary contact point

with directions to log in to their account

.
---
Step 6: Set up sync cycle
To automate the removal of users and classes in Remind for CSV 1.0, 2.0, and OneRoster (based on changes that happen in your SIS), you must upload your CSV files at least once every 90 days. As a result, we highly recommend syncing your CSV files at least once every 90 days. Review this article to learn more about handling term changes.


Note: Clever syncs run automatically nightly.