For administrators with advanced messaging, a premium feature available with Remind Hub! To learn more, please contact your Remind account manager or Remind support.
Remind gives you the ability to upload a list of student numbers and privately reach those students and their parents to notify students and parents of chronic absences, lunch money balances, and more. See our guide for example messages.
Once you upload a list of student numbers from your SIS (Student Information System), or other data sources, we'll match those student numbers to rostered students in your school on Remind. You can then choose whether to send an announcement to those students, their parents and guardians, or both.
Before you begin:
You are a district or a school administrators
Your organization has created student accounts with a CSV, ClassLink, or Clever sync. To set up a sync, check out this Guide to SIS Syncing with Remind.

Note: If you'd like to reach parents, students must be rostered with parent connections on Remind.
This resource covers the following topics:
How to message a custom list of students or parents

Navigate to your school-level admin dashboard on the web or on the mobile app, and click on New Message.
When the composer opens, select Message, and scroll down until you land on the Choose groups or people tab. Click on the second tab, titled Upload list of student numbers.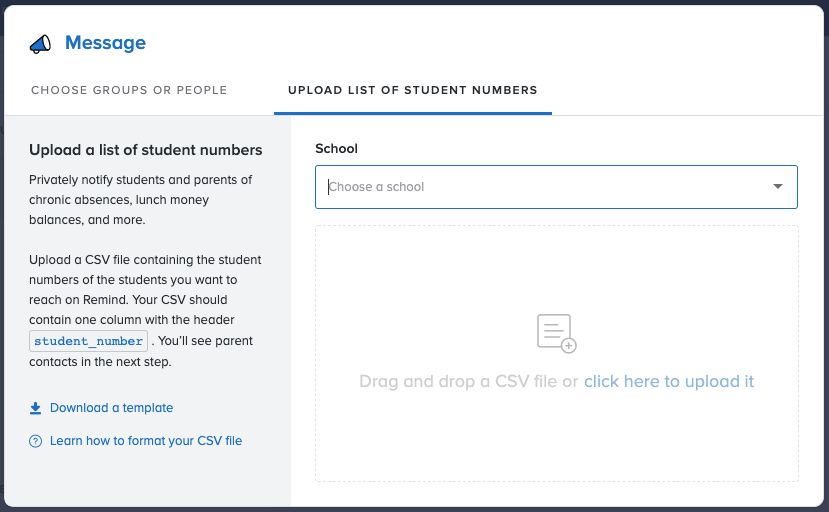 Choose a school
You can send an announcement to students in one school at a time. If you'd like to message students in multiple schools, compose a separate message for each school.
If more than 50% of students at your school are missing student numbers, you'll see a warning after selecting your school because students that don't have student numbers on Remind won't receive announcements using this method.
Format CSV file
Create a CSV file containing the student numbers belonging to the students you want to reach. We recommend exporting a CSV file with the relevant student numbers from your SIS.

Your CSV file should have a single column with the header: student_number. You can include up to 2,000 student numbers in the student_number column. Be sure to save your file in the CSV file format (.csv). Download a template.

You do not need to include any parent contact information in your CSV file. You'll be able to select parent contacts associated with the students you want to reach.
Upload your CSV file
Drag and drop your CSV file in the drop area, or click to select your file from a folder on your computer.
If you run into an error uploading your file, see CSV upload error for troubleshooting help.
View matched students
If any student numbers don't match students in your school on Remind, the student numbers will be highlighted in yellow at the top of the list of recipients. See Unmatched students for suggested next steps.
Select recipients
Messages can be sent to students, their parents and guardians, or both. Students on Remind will be matched to the student numbers in the CSVs.
Parents and guardians must be already connected to these students on Remind. If you select 'Parents and Guardians', every parent and guardian associated with the matched students will be included as a recipient of your announcement.
It's possible that some students won't have parents or guardians connected to them. The number of missing parents will be highlighted in red. See Missing parents and guardians for suggested next steps.
Compose your announcement
Just like when composing a school-wide or class announcement, type your message and add links or attachments if needed.
Send your message
Once you hit 'Send', recipients will be notified according to their notification preferences. They'll receive the message in their one-on-one thread with you, the sender. Recipients will not be able to see who else received the message, and you can disable replies to your messages if preferred.

To view the message summary for your announcement, visit your school's announcement thread.


Troubleshooting
CSV upload error

If you run into an error uploading your CSV, confirm the following is true:
Your file is a CSV file
Your file contains one column with the header: student_number
You are able to open your CSV file on your own computer
You selected the right school from the dropdown before uploading your CSV
Unmatched students

After uploading your list of student numbers, you may see some unmatched student numbers highlighted in yellow. This happens when there are no students with those student numbers in your school on Remind.

Because you must remedy these unmatched student numbers via SIS syncing, we recommend continuing to send your message to the students who were successfully matched and then addressing the unmatched student numbers.

Start by confirming that the unmatched student numbers and corresponding students are in your SIS. Then, confirm your SIS is syncing regularly with Remind via CSV sync or Clever sync. See our Guide to SIS Syncing with Remind for more information.

Missing parents and guardians

You can choose to add individual missing parents or guardians before sending your message. If many parents and guardians are missing, we recommend adding them via SIS syncing.

Adding individual parents and guardians
Tap the '+' sign next to the matched student who is missing a parent or guardian.
If the parent or guardian is already on Remind, you can search by first or last name and click 'Add parent'.
If the parent or guardian is not on Remind but you have their mobile number or email address, you can add them to Remind by clicking 'Add parent or guardian to Remind' at the bottom of the search results.

Adding parents and guardians via SIS syncing
See our Guide to SIS Syncing with Remind for next steps.