For all Remind users
One of the unique features of Remind is that you have the ability to communicate solely by text with parents, teachers, and students without giving them your personal phone number. In this article, you'll learn about the communication functions available to you through text.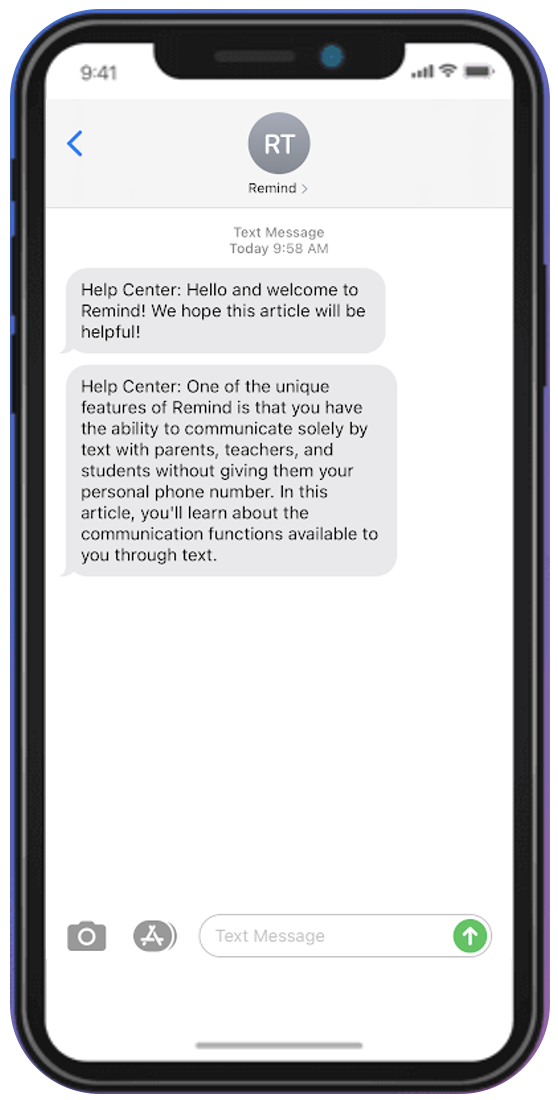 This article contains the following sections:
---
Joining a class or school
When you join a class or school by texting 81010, you'll get an automatic reply with the class owner's display name or the name of the school.
If you do not have an existing account, we'll send you a prompt for some basic information to create an account. Learn more about creating an account here.


Each announcement you receive will have the school or class name, while individual messages will have the display name.

When a teacher or administrator adds you to a class using your phone number, you'll have to first accept the messages by replying YES to the 81010 prompt.
Note
To join more classes, text the class @code to 81010 (US only).

For example, if your Math 101 class code is "math," text @math to 81010.

Download the Remind app

to instantly send and receive messages as well manage your classes on your phone. You can still receive messages by text even if you use the app.
---
Receiving messages
Messages will come from a different phone number for each teacher.

Ex. Announcements and messages from Ms. Smith will come from one number (555-555-5555), while announcements and messages from Mr. Jones will come from a different number (888-888-8888).

We randomly assign the area code for these numbers to our users, and messages from Remind don't change the cost of receiving a text message.
---
Saving contact information
After saving the contact information, you'll be able to start conversations with the individual even if you've deleted the initial message thread you have with them.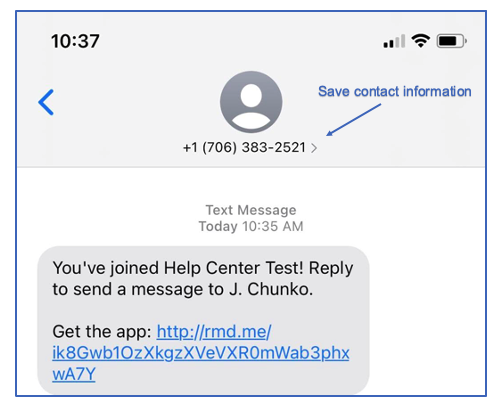 ---
Leaving message threads
When you no longer want to receive messages from a school or teacher, you can text:
@LEAVE to leave all classes owned by a teacher.

@LEAVE "class code" to leave a specific class

,

but stay in the teacher's other classes.

@LEAVE to leave a conversation

. You'll

no longer receive any responses in that conversation and you won't be able to rejoin it. The teacher can add you again, if desired.
---
Replying to messages
You'll only be able to reply to a text message if a teacher or administrator has two-way messaging enabled. If they do, replying to their announcement will automatically start a direct conversation between you and them. We'll let you know if the sender set up their account to not receive replies.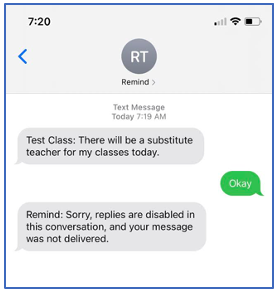 ---
Reporting
You can report any

inappropriate messages to Remind by texting @REPORT. We'll review the content of the message, and take action if it is outside of our

Community Guidelines

.
Once the report has been placed, you'll receive a notification from Remind. The sender will not see your @report response, and will not get notified that you submitted the report.

Once the report has been reviewed by Remind, a Support agent will reach out to you via email with the resolution or additional questions.
---
Blocking messages
You can always text @STOP to 81010 as well to block all texts from Remind.

To unblock Remind simply text any school or class code to 81010.

If you are connected to an organization that created a rostered account for you, you'll still receive urgent messages and announcements from administrators.
---
Frequently Asked Questions
1. Why am I receiving text messages from multiple numbers?
One main benefit of using Remind is that all cell phone numbers, email addresses, and other personal contact information stays private on our platform. When a Remind administrator or teacher sends you a message, you'll receive it from their Remind number, not their personal phone number. If you are in several schools or classes, you may receive messages from different administrators or teachers, all of whom will have a unique Remind phone number. This is why we highly recommend you add a sender's Remind phone number to your contact list right after you receive their initial welcome text message.
2. Why can't I give parents and students the same phone number to contact me in Remind?
Trust and safety is extremely important to us at Remind. One way we protect our users is by not allowing the exchange of personal information on our platform. Everyone's personal cell phone numbers are shielded. To give you the ability to send mass communications while simultaneously sending individual text messages, we assign you a unique Remind phone number for each person you message. For example, if you have thirty participants in your class, when you send a class announcement, each participant will receive your message from a different Remind phone number. When you send a participant an individual message, they'll receive it in the same text thread as your class announcement. This means each participant only has to save one unique phone number for you on their phone.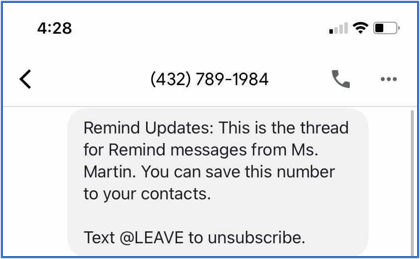 When you send the same individual a group message, they'll receive the group message from a different number. However, they'll receive a text notification that lets them know you started the message as well as who else is in the group.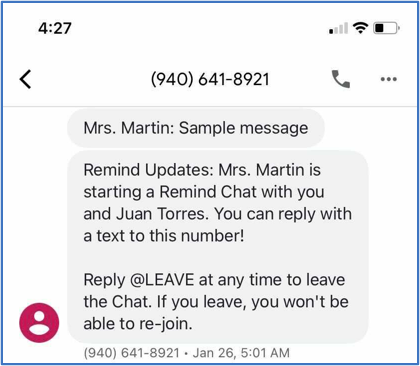 3. Why am I receiving multiple messages?
If a class is shared by multiple teachers, messages will still come from the phone number of the teacher who sent the announcement or individual message. If a class has two owners, you'll receive messages from two different numbers depending on which teacher sent the announcement.
When first joining, or when you're added to a class with multiple owners, you can expect a welcome message from each owner. For example, when three teachers own a class, when a participant joins their class via text, the participant will receive three text message responses for the same class, one for each class owner. Take a look at our Help Center article on joining a class for more information.
4. Why do some of my messages have strange characters?
If you're sending messages with emojis or with diacritics (special characters associated with messages in other languages), certain carrier and handset combinations may experience issues.
Unfortunately, we don't currently have a solution as this affects different types of phones across every carrier. If a specific person in your class is experiencing this issue, please don't hesitate to have them contact us at support@remindhq.com.
5. Why are some of the messages out of order?
This issue has to do with your cell phone carrier. When cell phone carriers deliver messages too far apart over time, phones do not always wait before sending the messages. That's why you might receive texts out of order.
6. Why can't I edit or delete a message?
Remind messages can't be edited or deleted once they've been sent. This is the same for other texts, emails, and messages you send.
A clear and accurate record of the messages sent helps keep communications safe. Although participants can delete texts from their phones, these messages will still appear in their Remind message history.
---