For administrators with a Remind plan.
If you're an administrator with a Remind Plan, you can send school-wide and districtwide messages to your entire community in addition to the basic types of messages via web or app.*
You can send announcements, and initiate individual or group conversations with members of your school or district. You're also able to send targeted messages by role to teachers, parents, students and administrators.
Sending organization-wide messaging
Click on the New message button located on the left-hand side of the dashboard under your name.
Click Message.
Select the district or school(s) you wish to message.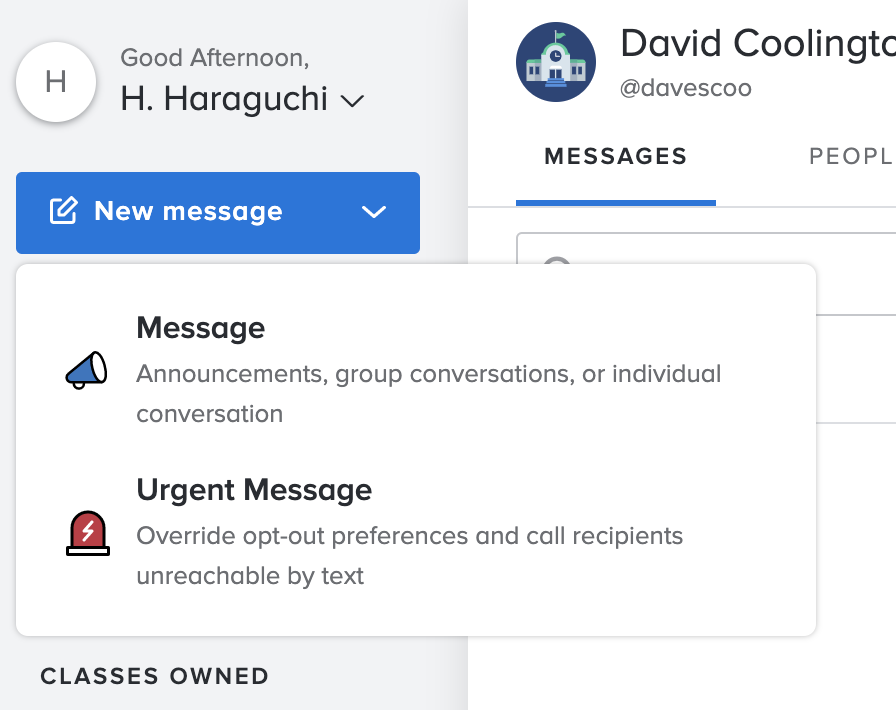 Participants can text "@leave @[school code or district code]" to any text messages received from the school they want to leave. If they're using the Remind app, they can go to their account settings and click "Leave" next to the school or district name.
Participants who wish to leave their schools should not text "Stop" as this will block all texts from all classes.
Sending an individual message
Click on the

New message

button located on the top left-hand side of the dashboard under your name.

Select Message.
Type in the name of a teacher, student, parent, or administrator in the search bar to locate an individual participant at your organization and to initiate a conversation with them.
Sending multiple people or classes a message
Click on the

New message

button located on the top left-hand side of the dashboard under your name.

Choose Message.
Via the search bar, look for people or classes to send a message to, or select recipient(s) from a school or class to send your message.
Click the grey arrow under a district, school, or class to select a particular audience for a role-based message.
After selecting your recipients(s), you'll see them appear under selected

on the right-hand side of the queue. Click the X to remove a selected recipient.

Click

continue

and you'll be directed to the

new message

screen where you can type your message before clicking

send.

Use the following features below to enhance your message:
Announcements
View announcements you have sent to groups within your school such as Everyone, Parents, Teachers, Students, and/or Admins. By clicking in to one of these message threads, you're able to see the message history sent to this group. Clicking in to the Message text box at the bottom of the message thread will allow you to send a message to the group or individual.
Conversations
View individual and group conversations in the conversations section. Conversations are listed in showing your most recent conversations at the top. Click on a conversation to view message history, and click message and the message queue will appear.
You can use your administrator dashboard to manage people in your school or district.
Parents and students can join with your school code, and you can add other administrators as co-owners.
*Please note: In order to send a districtwide message via web or app, all schools linked to your district must have the Remind Plan.