Remind has a few ways of controlling how and when users can be contacted. If another participant in a class contacts you, and you do not wish to receive these messages, you have 3 options:
When you're part of a group conversation, you may no longer wish to receive these messages.
Via text, this simply means texting @leave at any time.
Via app and on web, just click on the conversation you would like to leave, then click the (i) info button in the top right. There, you will see the option to "X Leave this conversation" in blue.
In any conversation, clicking (i) in the top right corner will reveal the option to disable replies.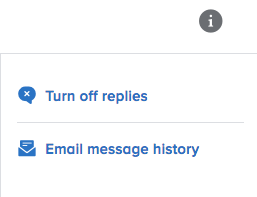 If you do not have the option to turn off replies, you can block someone. This disables all conversation between you and this user. The option to block appears anytime you click the 3 dots to the right of someone's name.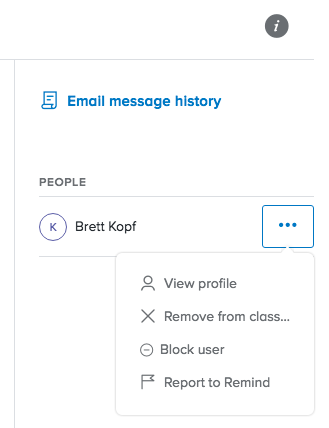 4. Report someone who is violating our Community Guidelines
You can use this option to report misuses to Remind when someone is in violation of our Community Guidelines. This option also appears when you click the 3 dots to the right of a user. 
You will need to specify what the user has done to earn the Report.