For teachers, parents, and students.
Remind uses cookies as a way to keep you logged in, and to remember your classes and account information. If cookies are disabled on your computer, Remind will not be able to log you in to your account. The way in which you enable or allow cookies depends on which web browser you are using. Find your browser below to learn how to quickly enable cookies!
Chrome
Open Chrome.
Click the three dots icon on the upper right-hand corner of the browser.
Select Settings.
Choose Privacy and security.
Click Cookies and other site data from the menu that appears.
Select Allow all cookies.
Add

https://www.remind.com

under Sites that can always use cookies.
Verify Clear cookies and site data when you quit Chrome is off.
Verify that

Remind.com

is not listed under Always clear cookies when windows are closed.
Close and reopen the browser.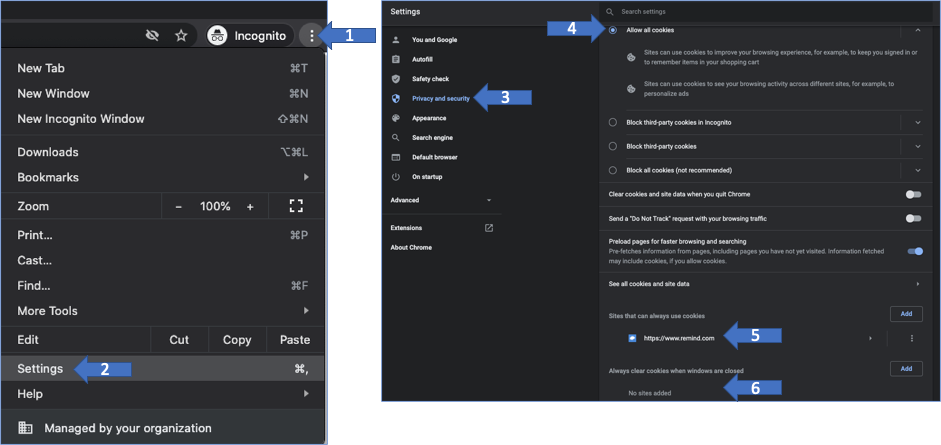 Microsoft Edge
(previously Internet Explorer)
Open Microsoft Edge.

Click the three dots icon on the upper right corner of the browser.

Select Settings.
Choose Site Permissions from the list.
Select Cookies and site data.
Turn on Allow sites to save and read cookie data (recommended).
Close and reopen the browser.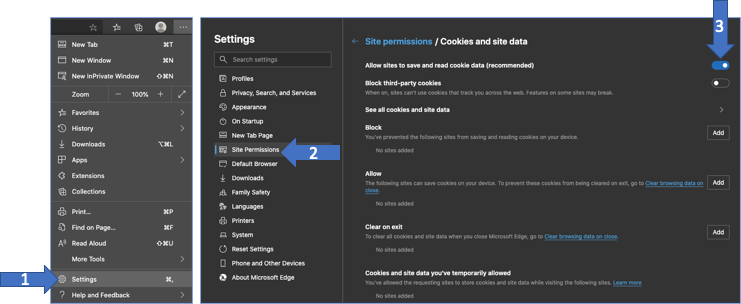 Firefox
Open Firefox.
Click Firefox from the window option list.
Select Preferences.
Click Privacy & Security .
Select Standard under the Enhanced Tracking Protection section.
Scroll down to the Cookies and Site Data area.
Choose Manage Permissions from the right side of the screen.
Add the site https://www.remind.com in the Address of website box.
Select Allow and then click Save Changes.
Close and reopen your browser.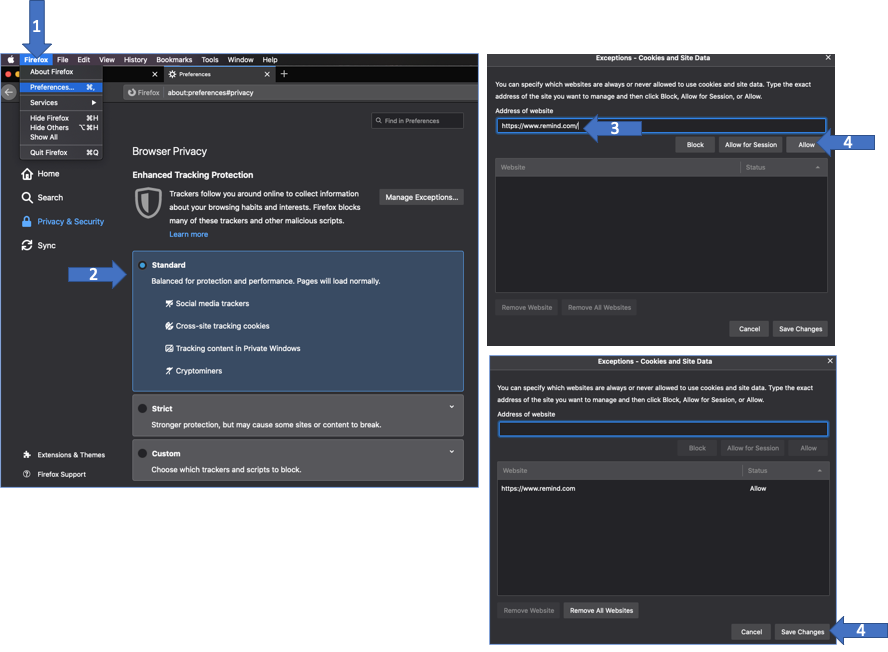 Safari
Open Safari.
Click Safari from the window option list.
Select Preferences.
Choose Privacy.
Uncheck Block all cookies.

If you're unsure of which browser you're using, please click here!