At Remind, we are committed to helping protect all of our users. In order to ensure the safety, privacy, and security of your Remind account, we may require that you verify your identity using your password and a four-digit confirmation code that we will send to your device. We will also notify you of any changes made to the contact information linked to your account.
This article contains the following sections:
---
New Devices or Existing Devices
After you have entered your username and password via remind.com or the app, you will also need to enter a confirmation code to access your account when you:
Are logging into your account from a new device, such as a new phone or a different computer.

Have not verified the device in the last 90 days.

Change your account password.

Note: If you are logging in to your account through a web browser, you will need to enable cookies in order for Remind to recognize the browser in the future.
We recommend that you use a separate browser profile if you share the same computer as another Remind user. Otherwise, we will require you to reconfirm your identity each time you attempt to log in because the system cannot differentiate you from another user with the same web browser profile.
---
Contact Points
To confirm ownership of the phone number or email address you are using on Remind, we will ask you to enter the confirmation code sent to the device when you are:
Creating an account for the first time.

Adding a new email address or cell phone number to your account.

Logging in to your account using a phone number or email address that has not yet been confirmed.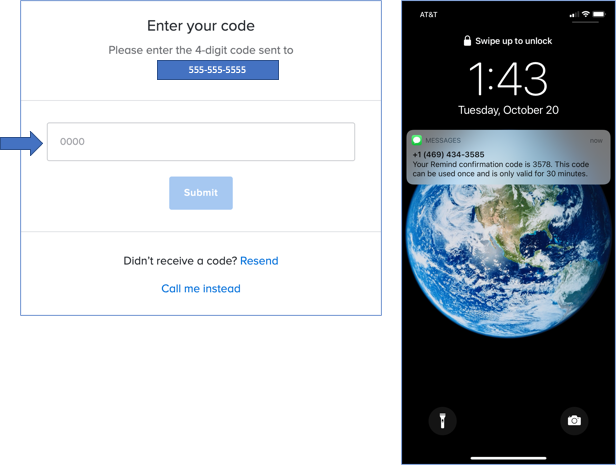 If you are confirming a landline, you must click Call me instead to get a code.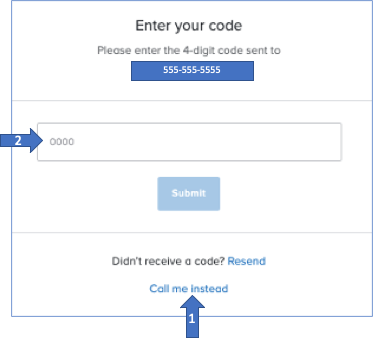 Note: If you do not receive a confirmation code for your email address, check your spam/junk/quarantine folder. If you requested a confirmation code for your phone number, and you did not receive a text, please contact our Support Team via rmd.me/help.
---
Notifications
To make you aware of any changes that are made to the cell phone number(s) or email address(es) on your account, we will notify you when a phone number or email address is added or removed from your existing account.
We will send these notifications to all the contact devices associated with the account, including the recently changed cell phone number(s) or email address(es).
Email
You will receive all notifications and confirmation codes from our no-reply@mail.remind.com email address. Please make sure that this email address is on your Allowlist to ensure you receive all communication related to your account.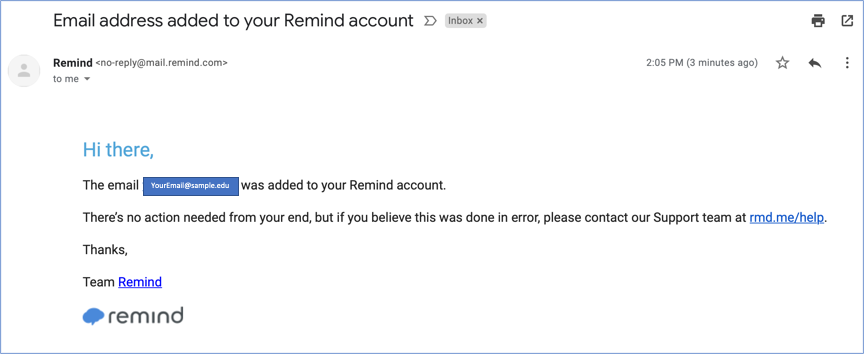 Text
As a courtesy, we will hold text notifications and only send them between 9 AM - 7 PM PT the following day.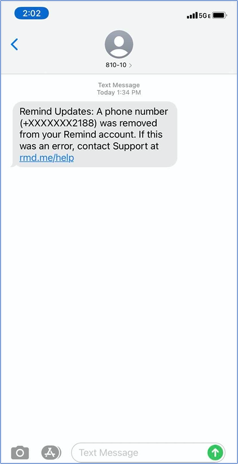 Note: If your account is connected to an organization with Remind Hub, your administrator may make quarterly or semester updates to the data they are sharing for teachers, students, and parents on Remind. We won't send you an email or text notification if your administrator updates your contact information via rostering. However, you'll receive a notification anytime you or your administrator manually removes or adds a device to your account.