For administrators with Remind Hub.
With default class settings, you can set expectations for class-level communication across your organization.
To access and update your default class settings, log into Remind on web, go to the Settings tab, and click on Default class settings in the sidebar. Here, you can update settings for classes across your organization, which include:
Making a class visible

Requiring approval to join a class

Setting how class participants message each other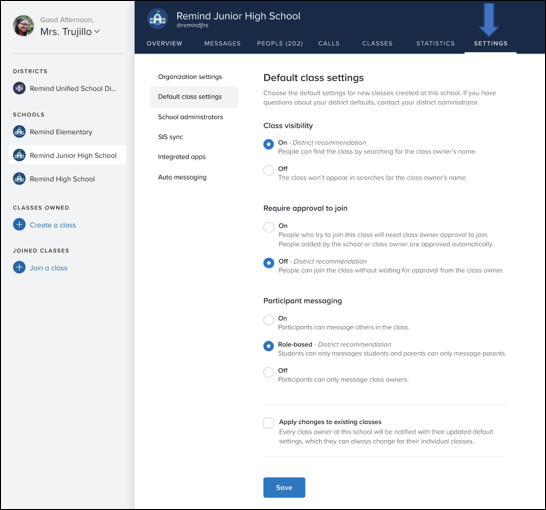 Class visibility
With class visibility, you can determine whether classes are searchable in Remind and visible on each class owner's Remind profile. Deselecting this option hides classes from Remind searches and profile views.
Require approval to join
When you require approval to join, class owners will be required to approve or deny participants who request to join their classes. Participants will not receive class announcements until they are manually approved. Anyone who is added to Remind through rostering or who has personally been added to Remind by the class owner will be automatically approved to join a class.
Participant messaging
With participant messaging, you can choose how participants message others in a class. Participants can either message anyone in a class, only message the class owner, or message other class participants with the same role (students or parents).
Apply changes to existing classes
After you update your default class settings, you can choose to apply changes to existing classes with the checkbox. All class owners will subsequently be notified with their updated class settings when you save. If you do not apply changes to existing classes, only new classes created at your organization will be impacted.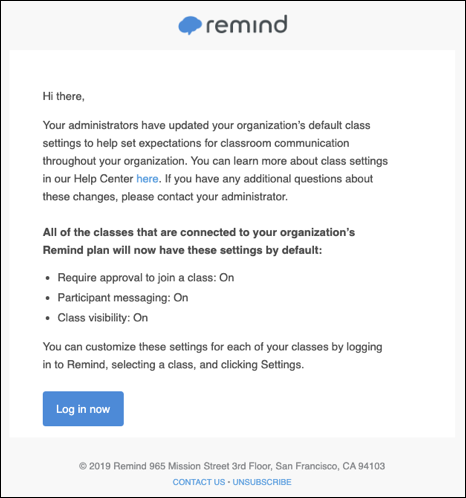 Class owners will see your organization-wide default class settings in their class settings. Defaults will be listed as school recommendation next to each setting. To meet the unique needs of each class, teachers can update their class settings at any time.
If you are a district administrator, your default class settings will apply to all schools across your district. Default settings will be listed as district recommendation within each school's default class settings. If you would like to update individual school settings, you can do so through each school's Settings tab.