Students younger than 13 years of age with Remind accounts are afforded extra safety, security, and privacy protections. We provide these additional protections and modified ways to use Remind both to provide those younger students, their families, and their teachers with an optimal user experience, to incorporate our design values into our services, and, where required, to comply with various privacy laws and regulations.
The Children's Online Privacy Protection Act (COPPA) is a US federal law that requires special privacy protections for kids younger than 13. When a student creates a Remind account, we require their date of birth. If they are under 13, we also require the name and email address or phone number of their parent. We then automatically send their parent or legal guardian an email with information about Remind, require the parent to approve the student's use of Remind, and we add the parent to all of the student's classes so that they can receive and reply to announcements on behalf of the under 13 student.
The name of students younger than 13 appears on our service as their first name and the first initial of their last name for privacy reasons. If the student does not provide Remind with their parent's email, or if the parent doesn't respond to Remind's notification, we delete the student's account.
If you plan to have students younger than 13 in your class, you must uncheck the "I will only message people 13 or older" box when you create the class.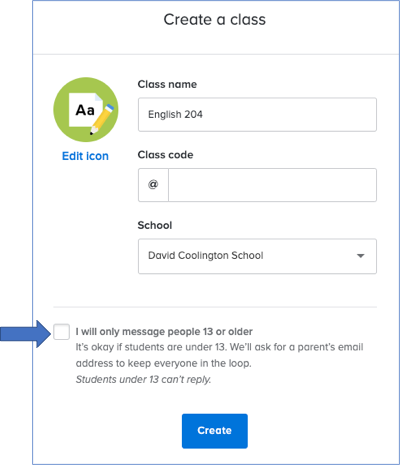 Although students under 13 can receive class or school announcements, they may not:
Be directly added rather than invited to a class

Join any class that has not been connected to a school on Remind

Participate in any two-way conversations

Start conversations or reply to announcements

Create classes or groups

Disable or enable replies

Set office hours
Additional protections and capabilities can be added for schools, school districts, or organizations with a paid Remind Hub. While we always comply with all applicable privacy laws and regulations, including COPPA, we may also work with the specific information in a school's or district's database to modify or customize the user experience and rules to meet those customers' unique needs.