When you receive a message, you can react with one of five options. You can use reactions to acknowledge the message, answer a question, or provide feedback.

How to react to a message

When you're logged in on web or the app, react to any message by clicking the reactions icon below the message. These will only appear for the most recent message. Tapping previous messages will bring up the menu. Here's what the icon looks like: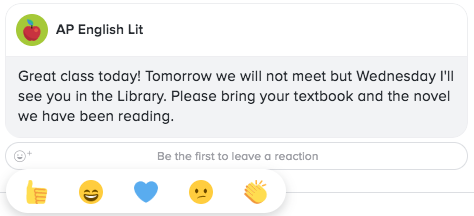 You can react to a message with more than one option, but you can only use each reaction once. Tapping or clicking a reaction for a second time will undo the action.

If you receive messages by text and have internet access on your phone, you can react through the link that appears at the bottom of the message. This link will appear for all messages that contain attachments and all messages shorter than 95 characters (so that there's enough space to include the link to react).

How to see who's reacted

If you're a class owner, go to your message summary on web or the iOS App for a detailed list of who's read and reacted to your announcement. The summary also includes a list of delivery errors and recipients.

If you're in a class where you can see and message other participants, you can see a list of who reacted to the class announcement. Your reactions will be visible to others as well.
On your Android app you can long press a reaction to see who has reacted.