Currently available for a select number of pilot organizations with a School and District plan. To learn more, please contact your Remind account manager or Remind support.

Remind's LMS integrations are available for organizations that use Canvas, Schoology, or any LTI-enabled LMS. Administrators can enable LMS integrations from their admin dashboard; until they do, teachers and staff members won't be able to access these features.
Setting up Canvas or Schoology integrations
From your Remind administrator dashboard, go to the Settings tab and choose Integrated apps from the options on the left.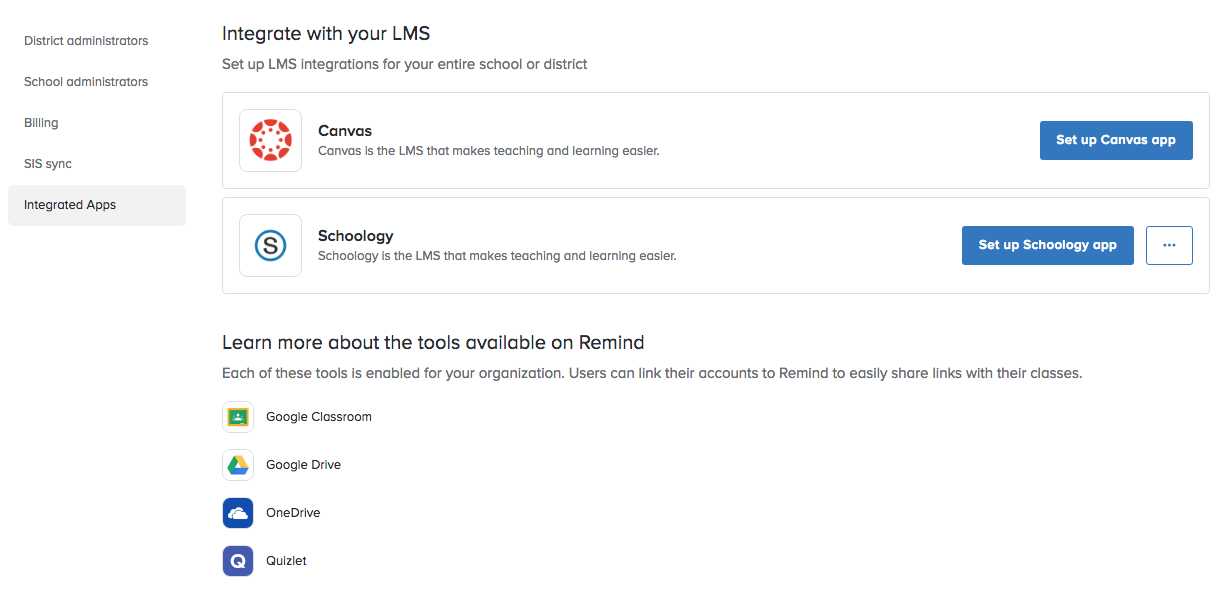 Select either Schoology or Canvas and click Set up to see detailed instructions for enabling the LMS integrations. After following these steps, click on the button in the bottom right of the screen submit or save your setup.
Completing your Schoology integration with LTI
If you're adding Remind to Schoology, you'll need to complete two additional steps.

1. LTI setup

Go back to Integrated apps in your admin dashboard settings and click on the Set up LTI button for Schoology.


Follow the instructions to complete the LTI setup. That's it for the admin configuration, but we're not done yet—there's just one more step.

2. Teacher account configuration

Now that you've enabled Schoology for your organization, your teachers will need to complete the LTI configuration from the previous step for their own accounts. Until they do, they won't be able to access the Remind composer from Schoology.

Detailed teacher instructions for configuring their accounts can be found at the following link: https://help.remind.com/hc/en-us/articles/360001636580
To make sure all the staff members in your organization set up their Schoology LMS integrations, send them a districtwide message with this link.